Dominican Republic takes center stage as Venezuelans eye pact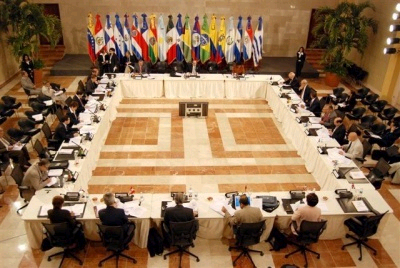 Foreign Ministry
Santo Domingo.-The Dominican Republic takes center stage Fri.  when president Danilo Medina mediates in the talks between Venezuela's Government and the opposition with the expectations of closing the year by reachingsome concrete agreements.
"On behalf of the Dominican Government, President Danilo Medina and my own, we value the confidence that the parties have placed in us, by choosing us as arbiters to settle their differences," said former Spanish prime minister José Luis Rodríguez Zapatero, accompanied by Dominican Foreign Minister Miguel Vargas.
Venezuelan opposition deputy Luis Florido said the keys to change in the dialogue are in a new balanced National Electoral Council, electoral conditions, qualified international observation and that political leaders are empowered.
He said compliance and follow-up of the agreements will be discussed.
"We have rowed this boat of negotiation together with the international community. We will not sign an agreement that harms Venezuelans. We prefer to speak truthfully to the people if there are no conditions," he said.
"We are looking for the release of all political prisoners. We have asked advisers to reconcile the lists of the Penal Forum, Committee of Relatives of the Political Prisoners and the National Assembly," Florido said.