Venezuela rivals to resume Dominican Republic talks in Caracas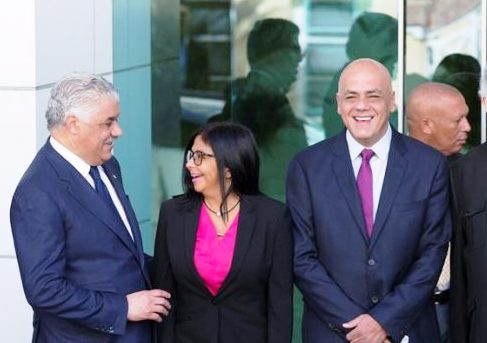 Dominican Foreign Minister Miguel Vargas, Delcy Rodriguez, Jorge Rodriguez.
Santo Domingo.- President Danilo Medina on Tuesday announced  that he already "has custody" of a draft agreed on by the rival factions in the crisis of Venezuela and will be submitted for consultation in Caracas in the coming days.
He said he cannot disclose details and that the talks resume on Monday in Santo Domingo, where Venezuela Govt. spokesman, Jorge Rodríguez affirmed that the definitive agreement will be signed.
Speaking at the Foreign Ministry, Medina said there's s only one draft with the points discussed.  "The pending issues have to be discussed in Caracas and on Monday we will meet in the Dominican Republic and will depend a lot on the consultations."
"Today is a great day," Rodríguez said, because the parties reached a pre-agreement. "It's a day of good news for the signing of the act." He said that there are minimal details that will be addressed in the next hours in Caracas. He thanked the Dominican Republic and the accompanying countries for their efforts.
He said there are minimal details that will be addressed during the next few hours in Caracas.
Not so upbeat
Nevertheless, Rodriguez optimism isn't shared by opposition spokesman Julio Borges, who said there're still issues that require "being worked on."
He did praise the efforts at settling the dispute, but reiterated that "there's no pre-agreement and there's nothing but an act with the points discussed."