Another murder near Haiti border could stoke tension: report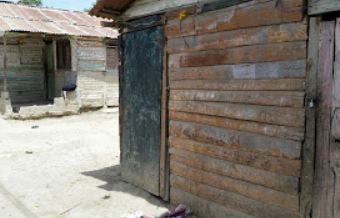 Homes abandoned. Photo vicentenobledigital.
Vicente Noble, Dominican Republic.- Dozens of Haitians have fled their homes here on fear of reprisal by Dominicans, after the early Monday killing of Carlos Antonio Batista (Carlos Palunga), 60, in a village in Barahona province (southwest).
The main suspected is reportedly a Haitian who worked with Batista, whose death occurred as he was heading toward his farmland.
Outlet Vicente Noble Digital reports that the Haitians have been abandoned their homes, but there's concern that they could be torched by Dominicans, as t took place in previous, similar incidents.
Several Haitians said they will not leave the town, since they've done nothing illegal, but revealed that they sent their relatives to nearby towns for safety until Batista's death is clarified.
According to Police, the Haitian workers Jackson Estimphil, 36, Michin Estimphil and Sean Morat Fliri, both 29, are being held for questioning, with two others on the loose.
Similar crime
The double murder of a Dominican couple three weeks ago in nearby Pedernales allegedly by two Haitians led to tension at that border town, which prompted the Dominican Army to deploy combat troops along the entire border.