Rep. Espaillat lauds legacy of Jose Francisco Peña Gómez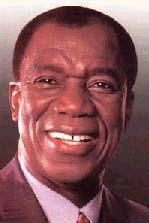 JOSÉ FRANCISCO PEÑA GÓMEZ. Photo enciclopediadominicana.org
Press Release
Washington, D.C. – Congressman Adriano Espaillat (NY-13) released the following statement in recognition of former Santo Domingo Mayor José Francisco Peña Gómez following events held earlier this week at the U.S. Capitol honoring his life and legacy.
"José Francisco Peña Gómez was a long-time civil rights activist whose life and legacy continue to inspire many throughout the Dominican Republic and the world," said Congressman Espaillat. "The former Mayor of Santo Domingo, Peña Gómez was born of Haitian descent and adopted by a Dominican family. As an Afro Latino, his activism to speak out against racism was deeply rooted in the love he shared for all people.
"He attended the Autonomous University of Santo Domingo, UASD, where he received a doctorate in law and later became an instructor for a literacy program serving disadvantaged children. He was hired by a radio station in Santo Domingo to announce baseball games and quickly discovered his natural talent as an orator.
"As Mayor Peña Gómez rose in prominence, his efforts to condemn racism and human rights violations grew throughout the Dominican Republic as well as the international community. As one of the most esteemed political leaders, throughout his career, Mayor Peña Gómez fought for equality and his efforts helped bridge the divide between African and Caribbean communities. His legacy to promote democracy continues still today throughout Latin America and the Caribbean.
"Thank you to everyone who attended this week's events in Washington, DC, celebrating the life of Mayor José Francisco Peña Gómez. We will continue to stand united to remember him and the lasting influence his leadership continues to have on the relations between the Dominican Republic and the United States."