Dominican Republic's total abortion ban threatens women's health: HRW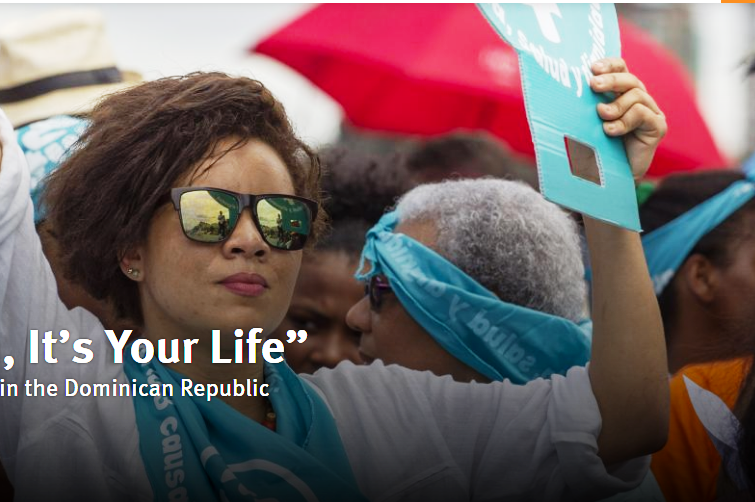 Photo HRW.org.
Press Release
Santo Domingo. – The Dominican Republic's total ban on abortion threatens women's health and lives and violates their rights, Human Rights Watch said in a report released today. Abortion is illegal in the Dominican Republic in all circumstances, even when a pregnancy is life-threatening, unviable, or the result of rape.
The 78-page report, "'It's Your Decision, It's Your Life': The Total Criminalization of Abortion in the Dominican Republic," documents that women and girls facing unwanted pregnancies have clandestine abortions, often at great risk to their health and lives. Many experience health complications from unsafe abortions, and some die. Some women and girls face abuse, neglect, or mistreatment by healthcare providers. The ban does not stop abortion but drives it underground and makes it less safe. As a starting place toward meeting the country's human rights obligations, Congress should decriminalize abortion in three circumstances.
The Total Criminalization of Abortion in the Dominican Republic
"Women and girls in the Dominican Republic have always defied the abortion ban, but they have been forced to put their health and lives on the line to end pregnancies clandestinely," said Margaret Wurth, senior women's rights researcher at Human Rights Watch and the author of the report. "Congress should decriminalize abortion and ensure that women and girls have access to safe and legal abortion by trained providers, instead of leaving them to use dangerous underground methods."
Human Rights Watch interviewed 50 women and girls ages 15 to 43, in four provinces, all of whom had been pregnant at least once, and dozens of health and social service providers and other experts.
The country's criminal code imposes prison sentences of up to two years on women and girls who induce abortions and up to 20 years for medical professionals who provide them. Prosecutions are rare, but the criminal penalties create pervasive fear and harmful stigma. The penalties leave medical providers unable to terminate a pregnancy when it is medically advisable without risking their careers and possible prison time. The ban disproportionately harms women and girls from poor and rural areas, who are less likely to be able to travel to another country where abortion is legal or locate safer clandestine abortion providers.
Research shows that restrictive laws and criminal penalties do not reduce the incidence of abortion. Expert bodies charged with interpreting international human rights law have determined that denying women and girls access to abortion is a form of discrimination that jeopardizes a range of human rights.
Public Health Ministry data suggests that nearly half the pregnancies in the country are unplanned or unwanted. Many women and girls said they felt "depressed," "terrified," "desperate," or "trapped, with no future," when they discovered they were pregnant. Some continued unwanted pregnancies, due to personal beliefs or fear of unsafe abortion.
Others tried to end pregnancies, including by taking or inserting pills; using home remedies; trying to induce poor health, for example by denying themselves food or water; taking prescription medications contraindicated during pregnancy; or trying to induce physical trauma. One woman said she beat her belly with a concrete block.
At least 8 percent of the country's maternal deaths are caused by complications from illegal abortion or miscarriage, according to the Public Health Ministry. "We've always recognized that unsafe abortion is an important health problem because women have to appeal to clandestine methods to find an answer to their situation," said Dr. José Mordán, head of the ministry's Department of Family Health.
The Dominican Republic is one of the few countries left that bans abortion under all circumstances. This means that women and girls resort to secretly taking pills or herbs and drinking certain teas, all potentially dangerous ways to end unwanted pregnancies. Researcher Margaret Wurth talks to Amy Braunschweiger about what this means for women's lives.
Complications can include heavy bleeding and infection. The use of misoprostol – a medication used to induce labor and to treat stomach ulcers – for medical abortion has reduced the risk of complications in countries where legal access is restricted. But 25,000 women and girls still seek medical attention for complications related to abortion or miscarriage in the public health system each year.
Some women and girls said they faced negligence, mistreatment, or abusive behavior by health personnel when they sought care for urgent sexual and reproductive health concerns, including being turned away, facing unreasonable delays, and being treated without anesthesia or pain management. Fear of prosecution or abuse by health care professionals led some to delay or go without seeking care following complications from clandestine abortions or during miscarriages.
For over two decades, legislators in the Dominican Republic have debated a new penal code. President Danilo Medina and women's rights groups have urged lawmakers to decriminalize abortion when the life of the woman or girl is in danger, when the pregnancy resulted from rape or incest, and when the fetus has serious complications incompatible with life outside of the womb. President Medina has twice vetoed revised penal code versions that maintained the total abortion ban, but the National Congress has resisted reform.
Historic votes in Ireland and Argentina in 2018 and a landmark decision to partially decriminalize abortion in Chile in 2017 are just a few examples of global progress toward expanding legal access to abortion. Between 2000 and 2017, 27 countries expanded access to abortion. The Dominican Republic should join the countries affirming that access to abortion is a human right, Human Rights Watch said.
"Congress has an opportunity to enact long-awaited reforms to the Dominican Republic's penal code and decriminalize abortion, or at least liberalize access," Wurth said. "Women and girls should not have to wait any longer for the government to guarantee their sexual and reproductive rights."