Trump's Dominican Republic interests face probe in the US: State.com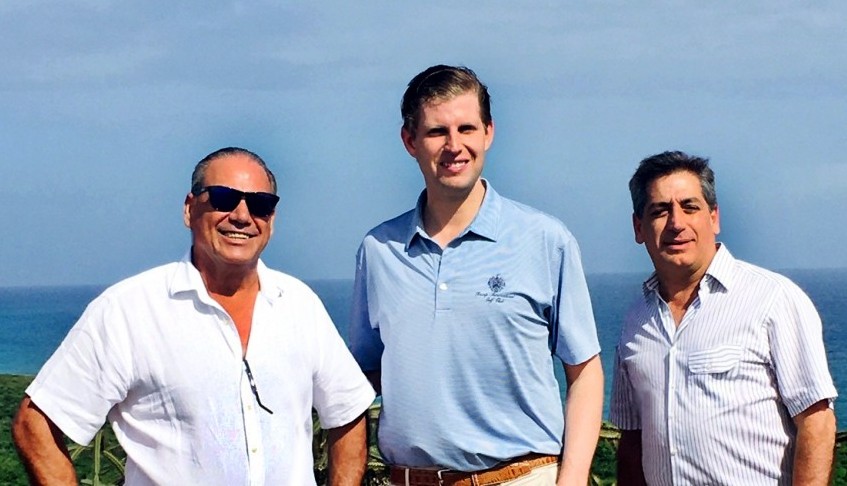 Ricardo Hazoury, Eric Trump, Fernando Hazoury.
Santo Domingo.- The US lawmaker who will soon chair the House Oversight Committee, said Democrats plan to ask the Trump Organization for records related to the company's talks with developers in the Dominican Republic because of concerns one of the president's sons attempted to discuss a deal after his father's inauguration, Rep. Elijah Cummings told ABC News.
Outlet Satate.com reports that the conversation could hint to a potential violation of the ethics rules that deal with the president's business dealings.
Cummings' comment followed a report Monday by ABC that "Eric Trump made a visit to the island 16 days after Trump's inauguration to meet with developers. Ten years ago, the Trump Organization abandoned a plan there to develop dozens of luxury properties, blaming the developers, who they sued for fraud. "In 2017, after Eric Trump's visit, the same developers announced they were "working with the Trump Organization in the future phases of the project."
There were no formal announcements about the organization's return to the Dominican Republic, according to State.com.
The outlet adds that concerns that the Trump Organization was quietly negotiating with the local developers were bolstered when a non-profit group dispatched an undercover investigator to post as a potential buyer and ask about the deal at the Cap Cana resort on the island. "A sales agent there was recorded telling the investigator that the Trump Organization was developing a condominium at a new beachfront location—a new phase of the original deal."
Dominican showdown
Tourism minister Francisco Javier García on Wed. said the construction of two luxury high rises in Macao and Cap Cana "is behind the flap among business sectors."
The official accused the National Hotels and Tourism Association (Asonahores) of abandoning the talks over the issue and challenged it to identify the hoteliers who financed the protests against the towers in Macao, during groundbreaking for the Moon Palace Hotel headed by president Danilo Medina.
He also labeled Asonahores' opposition of the towers as "smoke and mirrors" and as a way to cover up or a distract from the true causes of the issue, "a confrontation between business sectors."
"And today I state categorically that the problem of the towers is a smokescreen; the problem is not the towers," the official said.
He said his role is to regulate and maintain balance in the sector, because "I did not get to the Ministry of Tourism to go in favor of any particular group."
Quoted by El Caribe, Garcia said Asonahores should represent the interests of entire tourism sector, but stressed that it's not doing so, "because Asonahores is fighting with Cap Cana (resort group) in the East, with the Hazoury and is also fighting with the Vicini."