Haitians return and deportations of undocumented persons continue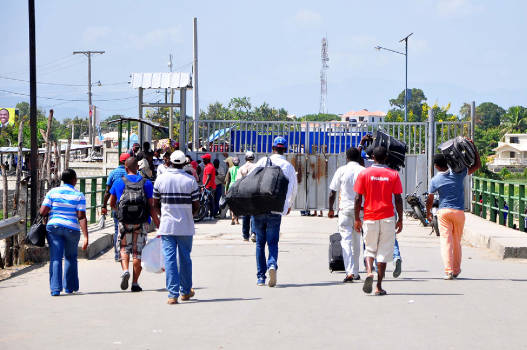 Post-New Year's holiday arrival of Haitians overseen by members of the Army and the DGM.
Immigration authorities in the Dajabón region continue the deportation of dozens of Haitian citizens daily as part of the operations carried out in different locations in the Dominican Republic to detect the presence of undocumented foreigners.
With the increase of services by the Dominican Armed Forces to prevent the passage of illegals and the smuggling of merchandise, it is increasingly difficult for undocumented citizens to circumvent the surveillance that exists throughout the border strip with neighboring country Haiti.
Traditionally Haitian citizens who work in the Dominican Republic with legal documents take advantage of the end-of-year holiday to visit their relatives, which markedly decreased last year.
Migration authorities highlighted here confirmed that in the last two days the number of Haitian citizens returned to their nation has increased considerably because they did not have the regularization card or road letters authorized by the Haitian and Dominican diplomatic authorities. "Anyone who presents his documents in order will have no problems crossing the border of both nations," noted a Dominican diplomatic informant who asked to remain unidentified. He said that relations between the Dominican and Haitian authorities are normal.