Three Dominicans nabbed with 1,140K of cocaine in Puerto Rico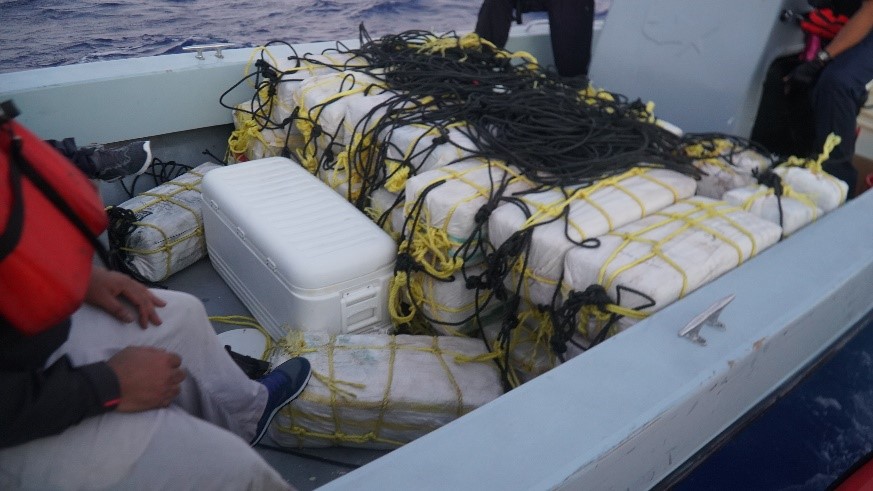 AGUADILLA, Puerto Rico —A joint effort by U.S. Customs and Border Protection (CBP) Air and Marine Operations (AMO) and U.S. Coast Guard  resulted in the interception last Friday night of a vessel attempting to smuggle 2,513 pounds (1,140  kilos) of cocaine, with an estimated street value of US$28.5 million.  Authorities arrested three aliens from Dominican Republic found operating the vessel.
"We remain committed to work with other federal and local law enforcement partners to detect and deter smuggling attempts throughout the Caribbean," stated Johnny Morales, Director of CBP's Air and Marine Operations in the Caribbean.
On the evening Mar.16, the crew of an Super King Air 350ER Multi-Role Enforcement Aircraft<https://www.cbp.gov/border-security/air-sea/aircraft-and-marine-vessels> from the Bellingham Air and Marine Branch<https://www.cbp.gov/border-security/air-sea/oam-operating-locations>, observed a 20ft twin-engine open hulled center console go fast vessel navigating towards the town of Loiza in the northeastern coast of Puerto Rico.
CBP contacted USCG Sector San Juan who diverted cutter Joseph Tezanos to intercept the vessel near the delta of the Loiza river.
The Drug Enforcement Administration (DEA) assumed the prosecution and investigation.
This interdiction is the result of ongoing multi-agency law enforcement efforts in support of Operation Caribbean Guard, the Caribbean Interagency Group (CBIG) and the Caribbean Corridor Strike Force (CCSF).
The suspected smugglers are facing likely federal prosecution by the U.S. Attorney's Office for the District of Puerto Rico.