Authorities are waiting for relatives of American who died in an accident to ID his body for return to US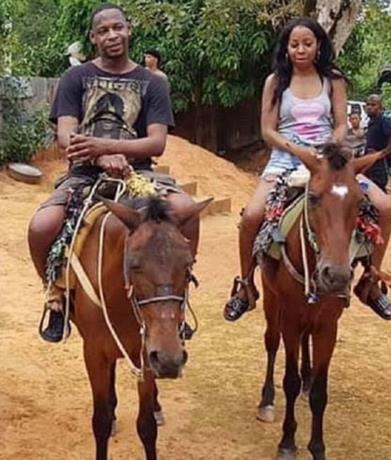 Orlando Moore (left) and Portia Ravenelle (Right)
The body of the American woman who died in an accident on the Las Américas highway on March 27 has not yet been repatriated to her country because family members have not traveled to the Dominican Republic to identify the body.
The director of the National Institute of Forensic Sciences (INACF), Francisco Manuel Gerdo Rosales, said that the US embassy was notified that the relatives of Portia Ravenelle had to appear in the country to identify her body.
The woman was already identified by the Dominican authorities, but now they are in the process of identifying her partner, the Jamaican-American Orlando Moore, who also died in the accident when they both attempted the drive to Las Americas Airport to catch a 2 am return flight to New York after spending four days of vacation in Samaná.
Gerdo Rosales said that they are waiting for the DNA tests of Orlando Moore so that if he tests positive, they will repatriate the bodies together.
The vehicle which they were driving apparenly crashed into the sea. The woman was found unconscious and taken to Darío Contreras Hospital where she later died, while her partner's body was found in a state of decomposition. Both bodies are in the INACIF.
Portia Ravenelle and Orlando Moore traveled to Samana on March 23 to spend four days on vacation.
When they arrived in the country, they posted a photograph in which they both could be seen riding a horse, enjoying their stay.
The tourists were reported missing by their relatives since March 27, the day they were scheduled to arrive back in the USA.
"We do not know if they will come to identify their relative if we send them photographs and other documents that could make it possible for them to identify their relative," said the INACIF director.
He said that he was even sent photos of Orlando Moore's tattoos, as well as other evidence to make it easier to identify him.
The couple, residents of Mt. Vernon north of New York City, had parked their car at the Newark Liberty International Airport in New Jersey before their flight, and family members said the vehicle is still there.