This is how residents and visitors enjoy the spas of Monseñor Nouel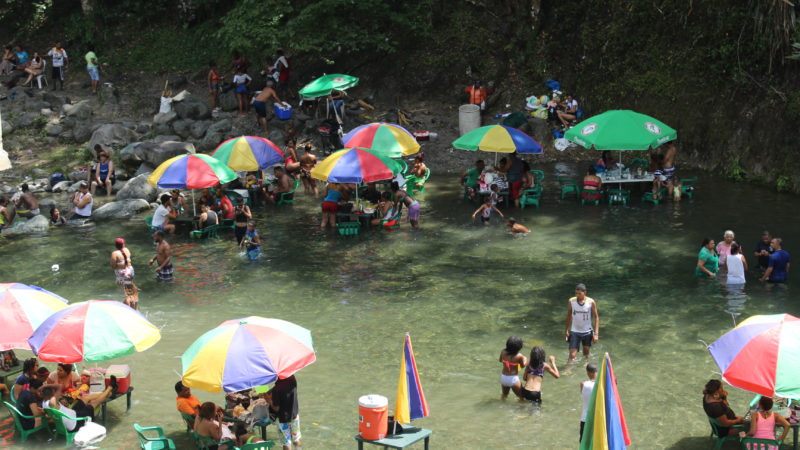 Watering holes of Bonao
Bonao.-The different spas of this province, Monseñor Nouel, are crowded with vacationers who, from the early hours of this Friday morning, gathered to enjoy a good swim or soak.
The bathing areas and resorts where the flow of visitors are greater are El Camellón, Fula, Los Quemados, El Manantial, El Peñón, La Confluencia de Blanco, Charco la Polea, among others.
In each of these water retreats, there is special security composed of policemen, members of the Civil Defense, the 911 Emergency System, firefighters, and other relief agencies, who give security to the family so that they can attend those places enjoying the holiday in tranquility.
As Good Friday elapsed, the news of accidents remained null, due to the great operation developed by the relief agencies of this province.
The provincial governor, Miriam Abreu, recognizes the support work done by thousands of volunteers and public servants to prevent and assist the hundreds of residents and visitors who travel to rivers, mountains, and spas during this Friday of Holy Week.
"We thank the thousands of volunteers of the Civil Defense, the police agents, Digesett (General Directorate of Road Traffic Safety), Road Assistance, 911 and other public servants in their efforts of prevention and assistance to travelers and bathers vacationing throughout the whole province," he said.
On the route La Vega-Bonao Duarte highway, it was possible to observe places where they gave away bottles of water and brochures with guidelines on the driving of vehicles, care on beaches and rivers, with recommendations to avoid excesses.
In the Christian tradition, Holy Week is the period in which the Catholic Church commemorates the last days of the life of Jesus, who, according to the Bible, allowed himself to be crucified in order to save humanity from sin.
Starting at 4:00 in the afternoon, the Catholic churches here will start their way through some streets of the city that their parish priests will lead, according to the parish priest of the church of Fatima, Tomas Alejo Concepción.