Education initiates delivery of more than 25 thousand computers to teachers
The Minister of the Presidency, Gustavo Montalvo, headed Monday along with the Minister of Education, Antonio Peña Mirabal, the act of delivering more than 25 thousand computers to an equal number of teachers nationwide, within the framework of Project One to One of the Republic Digital Education Program.
With the delivery, the "One to One Project" was launched, consisting of equipping all the teachers and students of the 18 regional and 122 educational districts with computers.
The program was opened in one of the salons of the Port of Sans Souci. The distribution of the equipment to the teachers will last until July 13, from 9:00 a.m. to 6:00 p.m.
As the strategy of the Educational Revolution promoted by President Danilo Medina is focused on bringing information technology and communication to all schools nationwide, the project also involves a training program in its One-to-One Component, to position of the Salomé Ureña Teacher Training Institute (ISFODOSU) and certification from the Technological Institute of the Americas (ITLA), under the coordination of the Minerd Educational Informatics Department.
The program has a Basic Cycle of 68 hours and Advanced Cycle of 80 hours, for a total of 148 hours of training, 96 classroom hours and 52 virtual, developed in 7 educational modules, which ends with a classroom project with technology, based on the practice and curricular area of ​​each teacher.
Likewise, the training process covers the five areas of the Common Framework of Teaching Digital Competence, such as information and information literacy, computing and collaboration, creation of digital content, security and problem-solving.
The project represents another step forward in the educational revolution of President Medina, for bringing technology to educational centers, in a globalized world that is constantly evolving.
The second phase of the One-to-One Project involves the daily delivery of 4,000 computers to an equal number of teachers, to cover the total of 25,000 computers and impact 650 schools.
The central speech of the act was given by Minister of Education, Antonio Peña Mirabal, who praised the enormous efforts of the central government to include the Information and Communication Technology (ICT) to the teaching-learning processes to improve the quality of education.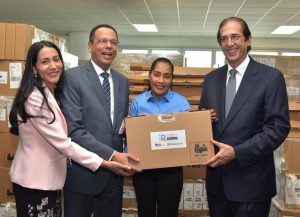 He stated that the Republic Digital Education Program seeks to connect the national educational process with information technologies (ICT) and communication, aware of the important role it can play in the teaching-learning of students.
The official urged teachers to make intelligent and responsible use of the computer received free of charge, as well as the technologies.
He specified that, in addition to the more than 25 thousand laptops delivered, the presidential goal through the Digital Republic is to distribute a total of 79,500 at the beginning of August of the next school year.