Ten provinces of the country on alert for tropical depression
A large mass of Dominican territory comprising ten provinces was placed in a state of green alert Monday by the Emergency Operations Center (COE), because of a tropical depression that is moving south of Puerto Rico.
As a precaution, the entity has warned about the potential for disturbances that could lead to meteorological phenomena, such as floods, floods of rivers, streams, and ravines, and landslides in urban and rural areas.
The provinces under this alert classification are La Vega, Monte Plata, Monsignor Nouel, Duarte, San Cristóbal, Gran Santo Domingo, Sánchez Ramírez, Hato Mayor, El Seibo, and San Pedro de Macorís.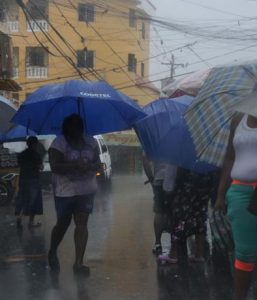 An alert is issued when the presence of any weather phenomenon is detected, be it tropical storm or cyclone, with the possibility of further development and causing damage.
Although four types of warnings are recognized in meteorology: red, orange, white and green, the latter is the one that represents the least danger, and it is advised to keep informed about the activities planned by emergency institutions, such as the COE, Civil Defense, and Red Cross.
A bulletin of the National Meteorological Office (Onamet) has established that a tropical wave located south of Puerto Rico will be combined with a trough over the country, which will increase cloudiness and rain activity and generate downpours that could be moderate to strong towards the northeast, southeast, central mountain range and the Greater Santo Domingo regions.
Already the entity predicted that between today and tomorrow Wednesday, the tropical wave and the trough will continue to generate conditions of humidity and instability, predominantly cloudy sky with downpours that can be moderate to strong, thunderstorms and gusts of wind over the ten provinces, and that These downpours will be more frequent and intense in the afternoon and at night.
As for temperatures, they will continue to be hot, so Onamet maintains the recommendation that the population drinks enough fluids, wear light clothes and avoid exposure to the sun for prolonged periods from 11 in the morning until 4 in the afternoon.
Recommendations
Given the prognosis of heavy downpours in the country, the product of a tropical wave and a trough, the health authorities remain vigilant of the behavior of the phenomenon and, as a preventive measure, they have recommended that families remove any pots, containers or other vessels where water from rain can collect.
This measure seeks to prevent the growth of the dengue transmitter and other diseases that reproduce in clean water and that the incidence of this disease continues to rise, which has reported 4,296 cases and seven deaths so far this year. confirmed, of 19 audited.
Dr. José Manuel Puello, director of the National Center for Tropical Diseases Control (Cencet) reported that he is attentive and activating preventive measures, because with the rains the second group of hatcheries is activated, which are those that arise from the water of rain that accumulates in pots or containers in patios, roofs, alleys and vacant lots.
He recommended to the families that before the rains they clean the surroundings of their homes of all empty containers, to choose those that are not needed and to cover those that are not useful. Puello recalls that dengue cases are still increasing since this is an epidemic year of the disease that is transmitted to humans by the bite of a mosquito that breeds and propagates in clean water.
Red alert. 
This alert is given when the phenomenon has a high probability of impacting an area, presenting effects that generate damage to people, goods, roads and the environment.
Yellow alert
Is placed when the event has an upward trend and implies imminent risk situations and severe emergency situations.
Green alert. 
Occurs when the presence of a meteorological phenomenon is detected, such as a tropical storm or cyclone, with the possibility of developing and causing damage. This alert represents less danger and entities such as the Coe, Civil Defense and Red Cross advise preventive measures.