DR goes after Guinness record of most couples dancing merengue today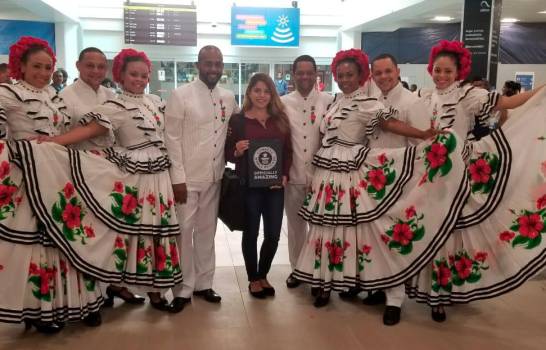 Natalia Ramírez of Guinness World Record upon arrival in the country, this Saturday.
The event will be in the Plaza España of the Colonial City; more than 400 couples will participate
This Sunday, November 3, starting at 5 p.m., about 440 couples will try to claim the Guinness record for most couples dancing merengue for the country.
In an interview with Diario Libre, the experienced Dominican choreographers Laura Ramírez and Marcos Taveras, responsible for the assembly of the dance and the synchronization of the couples, talked about the process that has been going on for several months.
The Guinness record of most couples dancing the popular Dominican rhythm is currently held by Russia.
The merengue was declared Intangible Cultural Heritage of Humanity by the United Nations Educational, Scientific and Cultural Organization (Unesco).
"It is an initiative that represents a country brand, good news for the nation, since we are surrounded by so many negative things lately, and to see how the Dominican Republic integrates selflessly, in the part of the essays, the spirit of the People working the choreographies, in addition to the support we have had from the helping hands of folk groups, dance schools, and individuals has been magnificent. It's a great idea from the hand of our producer Alberto Zayas," said Taveras.
Record day
If one of the couples gets the choreography wrong and is eliminated, for that reason they will be fine-tuning details. "We will be fine-tuning everything early so there is no mistake that day," said Ramirez.
Marcos Taveras and Laura Ramírez, coráagrafos responsible for the assembly of the dance. 
( 
 )
Marcos explained: "We will have a jury for every 50 couples. It is a single chance, what comes out of that is what will guarantee the record. The presence of several Guinness World Record judges is already guaranteed, as well as other evaluators who come to certify this project," he said.
Three hundred and fifty couples will be dancing to the rhythm of "El Merengón" by Joseíto Mateo, in Plaza de España in the Colonial City from 5 in the afternoon. It will be broadcast live on Telesystem. It will be free.
What they must do to break the record
To break the record, Dominicans must meet several requirements, including exceeding the amount of people dancing for an amount greater than 10% (which are currently 330 couples and here would be 440), follow a choreography, be uniform, numbered and be in a well-defined area.
Miriam Cruz, Elvis Crespo and Manny Cruz recorded the theme of the record.
The judge
This Saturday, Natalia Ramírez of Guinness World Record arrived in the country . It is one of the most experienced adjudicators in the region and has evaluated many records in Latin America. She will be present evaluating "A world record for merengue."