"This fight will not stop with bombs or bullets": Protestors in front of the MOPC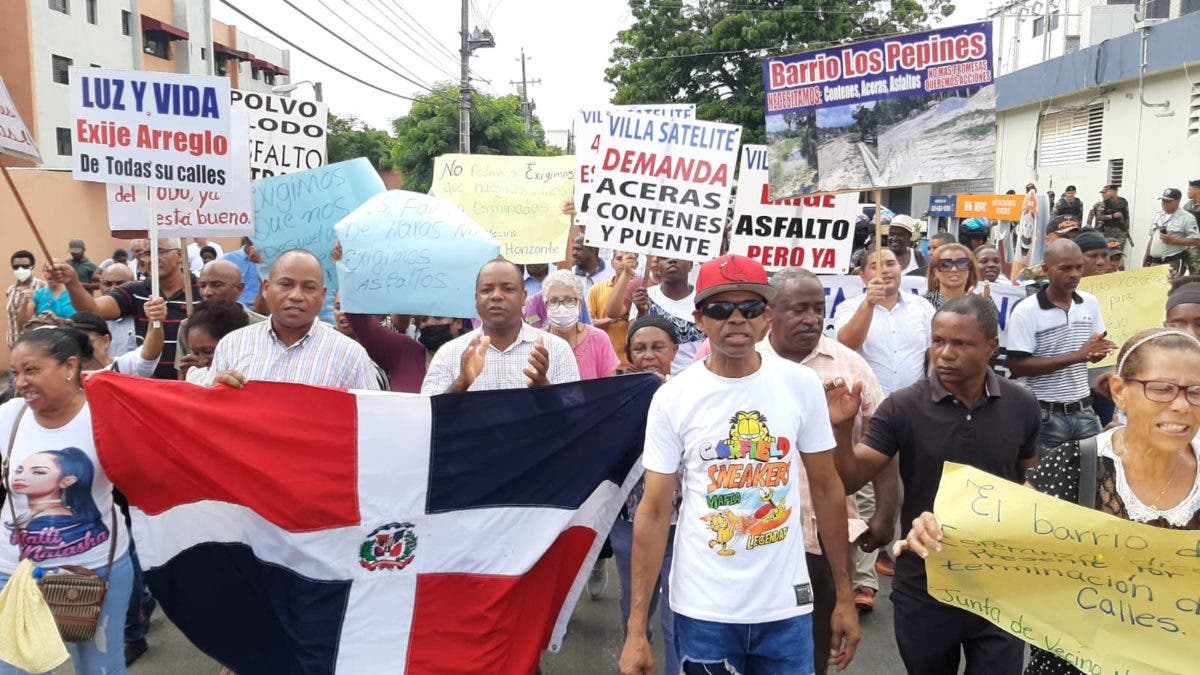 Municipalities of Santo Domingo Norte demand sidewalks, containments and asphalt in front of the MOPC
To the rhythm of drumbeats and with the slogans "This fight will not stop with bombs or bullets" and "This fight will reach the National Palace", hundreds of residents of the municipalities of Santo Domingo Norte (SDN) protested in front of the Ministry of Public Works and Communications (MOPC), to demand the repair of their main access roads, as well as the construction of sidewalks and curbs, among other infrastructures.
The residents belonging to the sectors Luz y Vida, Villa Satélite, Los Pepines, and Nuevo Horizonte, among others, denounced that the dust generated by the poor conditions of their streets causes respiratory diseases and conjunctivitis, as well as nummular dermatitis, among others.
The municipal councilors of the different sectors of Santo Domingo North were accompanied by dozens of community leaders, presidents of neighborhood councils, religious leaders, and transporters, who affirmed that they would remain 100% integrated with the just demands of the aforementioned sectors.
Community spokespersons Roberto Medina, president of the Community Coalition; Yilda Montero, president of the Association of Neighborhood Councils of Villa Mella and San Felipe; and the priest Roberto Alcántara, and Dr. Reyes Báez, president of the Federation of Evangelical Churches.
One of the spokesmen, Roberto Medina, expressed that they can no longer stand the dust in times of drought or the mud in times of rains while asserting that the only solution is the paving of their streets.
"If people go out or wash their clothes they get dusty, but if it is raining the houses get muddy. Our authorities know our problems and we are here in front of the Ministry of Public Works demanding the solutions they promised us in their campaigns," he said.
However, in the name of the municipalities and social, religious, and union leaders of the transport sector, they warned that the struggle would go all the way to the vicinity of the National Palace.