Tropical Disturbance with 50 % chance of becoming a cyclone monitored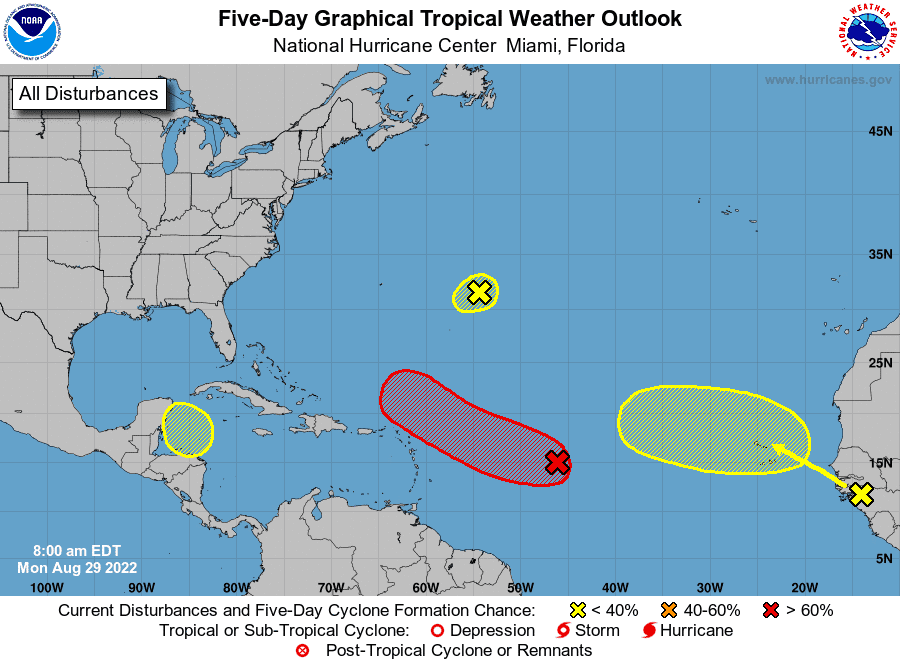 The National Meteorological Office reported monitoring an area of downpours associated with a trough, which has a 50 percent probability of becoming a cyclone.
"We are monitoring an area of downpours and thunderstorms, associated with a trough located in the tropical central Atlantic, with a 50 percent probability of reaching tropical cyclone status during the next 48 hours," Onamet explained in the weather report.
Also, they follow the evolution of another low-pressure area located hundreds of kilometers east of Bermuda, which has a 10% in 48 hours to become a possible tropical cyclone and another new area of downpours associated with a tropical wave leaving the west of Africa.
In total, there are four tropical disturbances that authorities are monitoring, although, at the moment, none offer a danger to the Dominican Republic.
"Currently, 4 tropical disturbances for the next 5 days, for the moment do not offer direct danger to the country, however, we follow up on their developments and movements," Onamet posted on Twitter.
Weather conditions for today and tomorrow
Since the early morning hours, cloud concentrations have been observed, causing local showers, especially over the Caribbean coast and the northeast. However, during the afternoon, a notable increase in cloudiness is expected, generating moderate to heavy downpours at times, thunderstorms and gusty winds, focal points of the northwest, northeast, southwest, Central Cordillera, and the border area, especially over the provinces of Dajabón, Santiago Rodríguez, Santiago, La Vega, Duarte, Elías, Piña, Hato Mayor, San Pedro de Macorís, La Romana, Monte Plata, Sánchez Ramírez and San Juan.
For Tuesday, a tropical wave will be approaching to increase cloudiness and produce moderate showers with isolated thundershowers in areas of El Seibo, Hato Mayor, Monte Plata, La Romana, San Pedro de Macorís, and Santo Domingo (including the National District).
With thunderstorms and wind gusts, this downpour activity will extend to towns in the northeast, northwest, and Central Cordillera in the evening hours. It will be combined with the effects of the trough and the trade wind.