Who is "La Muerte," the man who has escaped four times from the Police?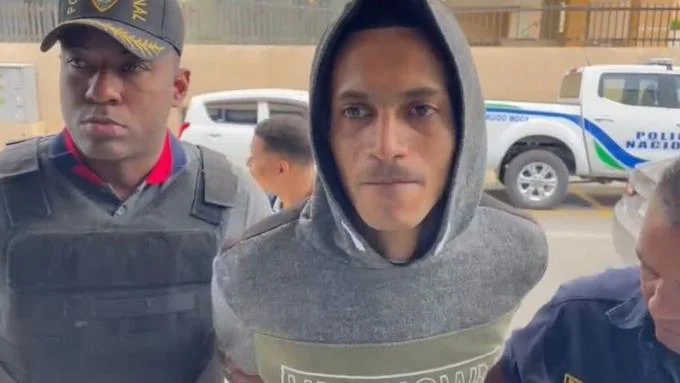 Samuel Henríquez Cáceres, alias "La Muerte". Photograph granted to Listín Diiario by the Espaillat Prosecutor's Office.
Santo Domingo, DR
At only 25 years of age, Samuel Henríquez Cáceres, alias "La Muerte," has a long record of crimes, for which he has been in prison on more than one occasion.
He has been denounced and arrested by the authorities for aggravated robbery and use of firearms at least four times.
On two of these occasions, he was prosecuted and remanded in custody in Moca, head municipality of the Espaillat province.
The unusual thing about this case is that the individual, a native of Cayetano Germosén, has escaped four times from police stations in Moca and Puerto Plata. He is currently a fugitive from justice.
According to what a source revealed to journalists of Listin Diario, the first two escapes of "La Muerte" took place in July due to the "carelessness" of the authorities in Moca.
The first time he escaped, Henriquez managed to circumvent the security of the barracks where he was being held by "forcing the padlock on the fence" and fleeing from the precinct where he was being held.
He confessed this under interrogation when he voluntarily surrendered to the Prosecutor's Office for the second time for committing the same misdeeds. Furthermore, the source revealed that he also escaped from that other barracks.
Although the authorities tried to find out in that second arrest how he had escaped the first time, to this day, it is still a mystery how the accused managed to do it.
The third and fourth escape
As if it were the script of a satirical movie, the story was repeated a third time but in another city.
Henríquez Cáceres was caught by the police distributing drugs illegally in Sosúa, Puerto Plata, and during his capture, he was even injured.
But that did not stop the accused, who escaped again from the police station in that northern area.
Although the Puerto Plata authorities tracked and recaptured him a few days later, the 25-year-old did not learn his lesson and soon tried to escape his punishment.
For his fourth escape, "La Muerte" did not even have to force the locks of the barracks or use violence but opted for other "methods" to evade justice once again.
According to reports from the Director of Investigation of the Espaillat Prosecutor's Office, Michael Taveras, the accused "pretended that he was in poor health to distract the uniformed officers and flee."
His last escape was last August 1st.
Under the astonishment and anger of the citizens for the unusual way Samuel Henriquez has broken the law and escaped punishment, the authorities are intensifying the search for the individual who, since then, has been on the run.