Intense itching is a warning sign of atopic dermatitis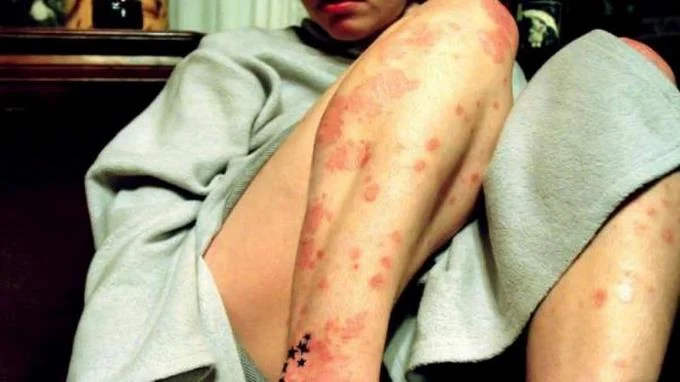 Atopic dermatitis causes redness and rashes.
Santo Domingo, DR
Intense itching, redness, and pruritus on the skin are the first signs of atopic dermatitis. This skin condition has a genetic basis that can affect people's school, social and work performance.
So warned Patricia Mayén, a pediatric dermatologist and allergy specialist from Guatemala, who stresses the importance of timely diagnosis and treatment to prevent the disease from becoming chronic, leaving the skin thick and hard.
The specialist is in the country invited by the Institute of Dermatology and Skin Surgery "Dr. Huberto Bogaert Diaz" for training and updating on this condition given the World Day of Atopic Dermatitis to be commemorated this Wednesday.
Interviewed during a visit to the editorial office of Listín Diario, the specialist explained that atopic dermatitis is a chronic skin condition with a genetic basis and can manifest itself from the first days of life, the skin lesions that cause a lot of itching being its main characteristics.
Mayén said this condition is up to 50% generic but can also be produced by allergies linked to environmental pollution factors and indiscriminate use of antibiotics.
Living conditions
"It alters people's living conditions because the intense itching leaves lesions and makes the skin thick, hard, red, and with time it can change to a white or brown color," she said.
Mayén said that its warning signs are itching and then redness and rashes, and when it becomes more chronic due to scratching, it turns the skin thick.
During the night, she added, the itching alters the quality of sleep because the person does not rest, even if they take medication, to the point that they bleed as a result of scratching, and then they perform less well in their studies and work.
In addition, said the specialist, sometimes people tend to stay at home because they do not want to show their skin.
By age
Dr. Mayén explained that according to age, in infants, the lesions are seen on the cheeks and the outer face of the arms; in adolescence, they begin to affect the feet, face, behind the knee, and arms, and in adulthood, they affect the neck and face primarily, but mainly on the hands.
Twenty percent of adults have lesions on their hands, which increased with COVID due to the use of alcohol and soap in the constant washing of hands; it has grown even more.
Recommendations
She explains that if there is a history in the family of people with the condition such as asthma, allergic conjunctivitis, or food allergies, among others, the child would require different skin care, avoiding contact with irritating textures, odors, and intense colors, use a soap that does not have many chemicals and immediately change sweaty clothes to prevent it.
In addition, she advises that at the first signs of redness and constant itching, the child should be taken to a dermatology specialist for consultation.