"Patriotic March" mobilized hundreds in Santiago in the face of the situation in Haiti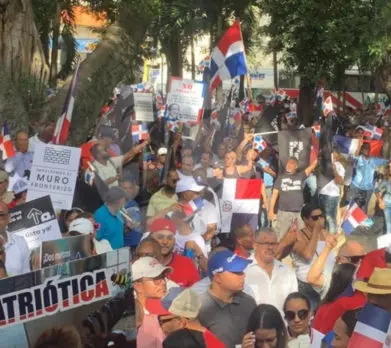 Hundreds of people from various social and independent groups marched today in the province of Santiago de los Caballeros in the so-called "Patriotic March," which demanded rapid intervention in Haiti from the international community.
The Instituto Duarte, organizer of the activity, defined as successful the massive march, which started in Colón Park and went along El Sol Street to conclude in Duarte Park.
The activity was attended by the directors of the Instituto Duartiano, Centro Duartiano de Santiago, and Duartiano branches, among other movements.
The demonstrators' demands are "greater speed, transparency and effectiveness in the construction of the wall or technological physical fence on the border."
You could read: Where does the money the accused return to the Public Prosecutor's Office go?
Also, "the application of 80% of Dominican labor in the economic activities of the country, in accordance with what is established in the Labor Code and to promote without delay the structural reforms and the modernization of the productive apparatus of the nation."
Likewise, "the rigorous and fair compliance of the migratory regulations, the sustained repatriation of the foreigners in illegal or irregular migratory situation, who remain in this condition even after the Dominicans have paid for the so-called Plan of Regularization of Foreigners, extremely fragile or openly illegal, onerous, which can be qualified as a great failure."
The manifesto read includes other demands supported by legislators of all political parties who attended the meeting.