A Colombian is detained in Peravia, along with 239 packets of cocaine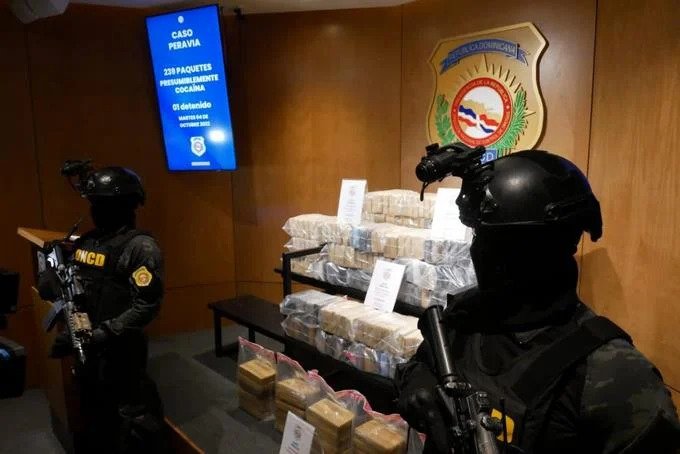 Photo source: Listin Diario
During a land and sea interdiction operation in the province of Peravia, the National Directorate for Drug Control (DNCD) seized 239 packets of cocaine. After receiving intelligence reports, the anti-narcotics agents organized a joint operation with the Dominican Navy and the Public Ministry to arrest several people who were on a boat trying to bring in a significant amount of drugs.
After several hours, the boat's occupants were apprehended near Playa el Jobo in Matanzas, in the municipality of Ban. When they saw the authorities there, the people ran, abandoning the boat and its nine or so bales. , which contained the chemical, close to stated beach's coastlines.
Units of the Dominican National Defense Corps and the Dominican Navy seized a Colombian after the protocol for these circumstances was started. According to the authorities, a search and tracking operation is being conducted locally to determine the whereabouts of other participants in this national and worldwide drug trafficking network. A 23-foot boat with no name or registration, a 75-horsepower engine, a GPS, six gasoline jugs, and other evidence were also seized during the operation.
The matter is still under investigation by the Public Ministry and the DNCD, but the foreigner will be brought to court soon for violating Law 50-88 on Drugs and Controlled Substances. The National Institute of Forensic Sciences (Inacif), which received the 239 packages under chain of custody, will identify the precise type and weight of the material in its study.
This year, the authorities were able to seize 26,832 kilograms, or 26.8 tons, of various substances.