President Abinader: "The nation will not admit refugees from Haiti"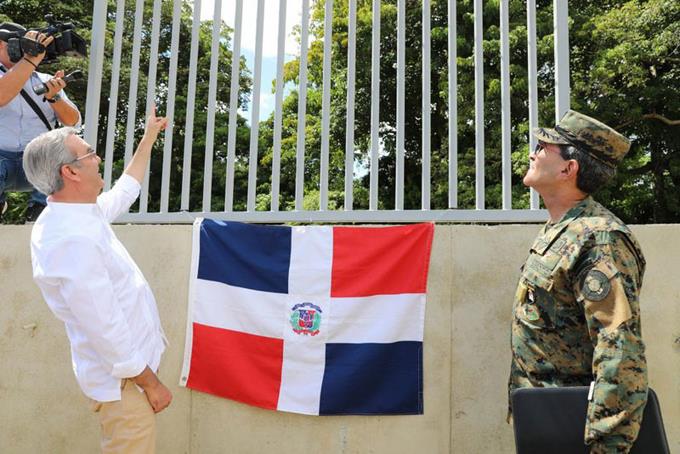 Source: Unknown
Abinader delivered his speech from the northwest bordering city of Dajabón, where the Dominican government started building a dividing perimeter fence in February. The first 54 kilometers of the fence are anticipated to be finished in the second quarter of next year. The president praised the Haitian government's decision to ask an international armed force for assistance in the midst of a catastrophe that is affecting the neighboring nation as "wise, reasonable, and patriotic."
"We understand that this international force will have the methods to prevent a massive migration of Haitian citizens to our country, because we, in that case, would block the border (…) it is very dangerous to receive refugees en masse, in no way," warned Abinader. He acknowledged that his nation "has never had a defined immigration policy" and that "there is a lot of hypocrisy here with people who talk and say about immigration control," but he insisted that the international force would have the tools to prevent it when it's convenient for them.
"We have to concentrate on talking about a national migration accord, which is not just an issue for the government, but is for the entire society," he continued, referring to the Haitian workers who primarily work in Dominican agriculture and construction.
The Dominican Republic is home to hundreds of thousands of Haitians, the majority of whom are irregular migrants. According to Abinader, who reaffirmed that his nation has been the one to "biggest and most consistently" deliver aid to Haiti, "the Migration Directorate has deported the largest number of Haitian people than has been documented in recent years."
In addition, Abinader announced the construction of 400 residences in Dajabón for the soldiers from the Dominican Republic stationed at the border as well as pay raises for them.
The Council of Ministers gave Prime Minister Ariel Henry the go-ahead to "seek and secure" from foreign allies "effective support for the urgent deployment of a specialized armed force," according to an article published last Friday in the Haitian Official Gazette, Le Moniteur.