Villa Mella: They were robbing messengers when the Police arrived and there was a "confrontation".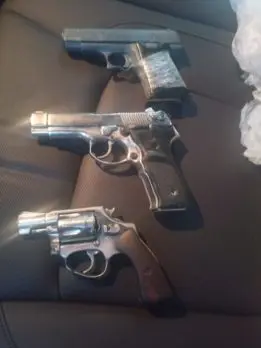 Three firearms were seized from suspects identified as members of a dangerous gang.
Two of four alleged criminals were killed yesterday afternoon after shooting at members of several police patrols who tried to apprehend them in the San Felipe sector of Villa Mella, Santo Domingo Norte when they were caught trying to rob two messengers of a money remittance company, a criminal action that was foiled by the police.
They are Geury Antonio Montero Echavarría (Lengua Azul) and Yasser de Los Santos, against whom there were arrest warrants since several victims identified them as the perpetrators of robberies, assaults, and aggressions committed against them. In the police intervention, which allowed to frustrate a robbery, two pistols, and a revolver were seized, with which they attacked the police officers with shots.
As for the alleged offender nicknamed "Lengua Azul" (Blue Tongue), he was being sought on arrest warrant 530-2022-EMES-01827 and several other warrants for robberies and assaults. He also appears in the institution's files with several records for robberies.
The law enforcement agency added that it is pursuing the other two alleged assailants who escaped from the scene, who have been identified as "Lamparita" and "El Grande," both heavily armed.
The preliminary report indicates that Montero Echavarría (Lengua Azul) and De Los Santos were surprised when they attempted to rob two couriers, whose identities were withheld.
The report adds that both men and their companions ignored the order when members of the patrol of the Central Investigation Directorate (DICRIM) called them to stop.
On the contrary, they shot at the agents who had to repel the aggression, causing the wounds that later caused their deaths.
Community reports indicate that Montero Echavarría (Lengua Azua) and De Los Santos (now deceased) and the two fugitives kept the residents of different sectors of Villa Mella under constant threats and anxiety.