Today is the 21st anniversary of the fateful American Airlines Flight 587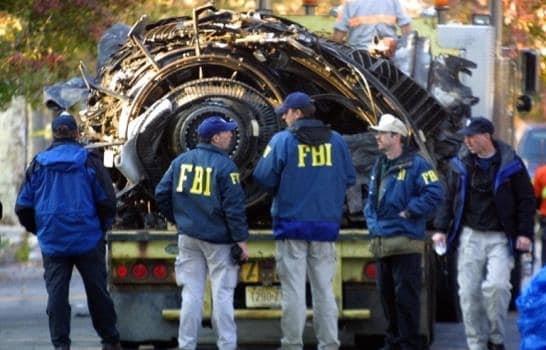 FBI agents examine a large section of one of the engines from America Airlines Flight 587 in a truck on November 14, 2001 in the Belle Harbor area of Queens, New York. The plane crashed shortly after takeoff on Nov. 12, 2001 from New York's John F. Kennedy airport.(AFP)
This November 12, the families of more than 100 Dominicans painfully remember the worst air tragedy for the Dominican Republic and the second worst accident in the skies of the United States: the crash of flight 587 shortly after its takeoff from John F. Kennedy airport in New York to Santo Domingo.
The American Airlines flight departed at 9:14 a.m. with 260 people on board, 68 of whom were Dominican nationals.
The crash of the Airbus A300 aircraft occurred two months after the terrorist attack on the Twin Towers at the World Trade Center, so both events were immediately related in the United States, which was still not recovering from the losses, the chaos, and the feelings aroused by the September 11 attacks.
Mainly because the plane crashed in the Belle Harbor community in Queens, New York, a middle-class neighborhood where many of the police officers and firefighters who lost their lives in the attack resided, according to the plaque that welcomes the Memorial erected in honor of the victims of Flight 587 right where the tragedy occurred.
What caused the crash?
At 9:14 a.m., the Airbus A300, which was already delayed due to security measures following the attack, was still on the runway awaiting takeoff clearance. At that time, he was informed that his departure would be followed by a larger aircraft, the Japan Airlines Boeing 747, so the pilots could take the necessary precautions.
In 2002, according to the investigation results, it was revealed that co-pilot Sten Molin was trained to operate the rudder sharply from side to side during the turbulence caused by the Boeing craft without taking into account the sensitivity of the aircraft.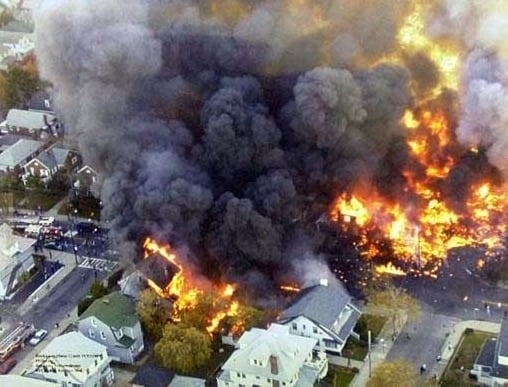 The violent movements caused the aircraft's vertical stabilizer to detach, without which the plane could not continue its flight. As a result, one of its engines plunged into the Belle Harbor community seconds before the plane crashed into several homes, causing the death of the 260 occupants and five other people upon impact with the ground.
This reason for the accident, which pitted American Airlines' training of its pilots and the aircraft's manufacturer (Airbus Industrie) against each other, led to a dispute between the two companies, with both sides avoiding responsibility and making accusations amidst million-dollar lawsuits by the victims' families against the airline.
Following the accident, training manuals were modified to require pilots to handle the A300's sensitive pedals with care.
The Memorial
In the same neighborhood where the accident occurred, there is a monument to the victims of flight 587, which every November 12 is filled with flowers left by the relatives of the deceased in the public Memorial held by the city.
Each name of the 265 people who died is engraved on the stone.