Ozama River banks continue to be threatened by trash and garbage dumping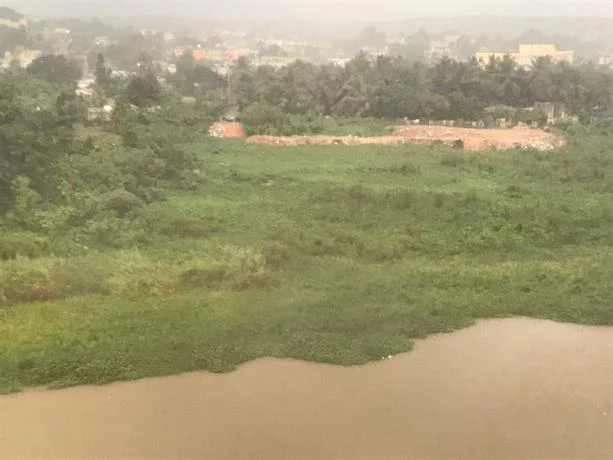 Santo Domingo, DR.
Solid wastes stain the green banks of the Ozama River in Sabana Perdida. At the same time, residents say they do not know who are the perpetrators of this fact that has filled with garbage several meters from the bank of one of the essential torrents of the country.
In the Colinas del Ozama sector, in Santo Domingo Norte, there is a piece of land filled with solid waste by "unknown" neighbors, who, when approached by journalists of Listin Diario, say "they have not seen anything or anyone."
The vulnerability of this river, which for years has been affected by the high levels of pollution due to the number of families living on its banks, added to the industrial wastes, the sunken boats, and the little preservation, has a new predator: the container trucks of debris and materials, which, not having "found" were to deposit these wastes, see the banks of the tributary as favorable.
Reporters of Listín Diario were able to observe how a sewage outlet goes directly into the Ozama river.
Last March, the Ministry of Environment and Natural Resources announced, through a cooperation agreement with the company Inversiones Factor Rucein, S.R.L., the cleaning of the Ozama river with the work of refloating, cutting, lifting, recycling, and transfer of the sunken boats in this tributary. This complies with the rescue of the Ozama and Isabela rivers.
Likewise, Miguel Ceara Hatton recently indicated that the rescue and protection of the Ozama and Isabela rivers is a priority for this Government, but without any concrete actions for their protection.
On several occasions, Interceptor 004 has carried out cleanup work in the Ozama, collecting up to 9.4 tons of waste.
This is due to an agreement between the Ministry of the Presidency as coordinator of the Ozama-Isabela Presidential Commission, The Ocean Cleanup, and the United Nations Development Program (UNDP).