Man dies crushed by the tree; seven provinces on alert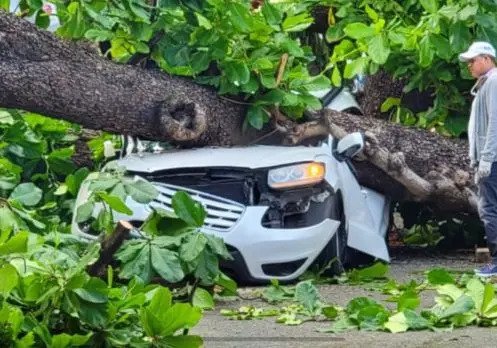 Source: External
A Ministry of Education employee died yesterday afternoon after a giant almond tree fell on his vehicle while he was driving along Santiago street at the corner of Santo Tomás de Aquino, in the University Zone, National District, due to ground saturation caused by rain. Noeres Gómez Ramirez, 38, died about an hour after the tree fell on his vehicle, a white 2011 Hyundai that was nearly destroyed and in which he was trapped.
Gómez Ramirez was said to live in Santo Domingo Este, near the Columbus Lighthouse, and was on his way to look for his son at a nearby educational center.
The Emergency Operations Center increased the number of provinces on alert to seven for possible river, stream, and ravine overflows, floods, and landslides. While the National Meteorological Office predicts local downpours, isolated thunderstorms, and possible wind gusts today over the northeast, southeast, and Central mountain ranges.
It is predicted that an air mass will limit rain in a large portion of the country. The National District, as well as the provinces of Monseñor Nouel, Sánchez Ramirez, Monte Plata, Hato Mayor, San Pedro de Macoris, and San Cristóbal, are on green alert, urging residents to take precautions to avoid loss of life and property damage.