Shy Melomano gives an insight on the alternative music scene in DR
When discussing the most well-known musical genres in the Dominican Republic, bachata, merengue, and the lauded dembow are frequently mentioned, but Dominican music encompasses much more. Quisqueya's artists perform pop, rap, sticks, salsa, and other genres in addition to rock and electronic music. Consider Dominican culture and swing combined with a musical style that incorporates any of the aforementioned elements, resulting in a single entity that does not require conceptualization or description and only requires a name to be known: this is the "alternative," or that which falls outside the purview of the majority of commercial industries.
Alternative music is gaining popularity due to its lyrical, rhythmic, and melodic contributions to the nation's musical quality. They sing about social issues such as racism, class differences, poverty, personal liberation, love for others and nature, feminine strength, and self-love. Indeed, the alternative provides a haven for the once-popular protest song from the 1960s and 1970s.
Although this genre of music has been around for decades, some noticeable new artists are still rising today. Such is the case with Shy Melomano, one of the most known LoFi hip-hop artists in the Dominican Republic. Aside from LoFi, he also does indie pop and pop-urban music. Shy Melomano (whose real name is Ariel Castillo) is a 23-year-old singer-songwriter, and producer. He rose to fame at the age of 21, and he was considered one of the youngest artists with notoriety in these genres in the Dominican Republic.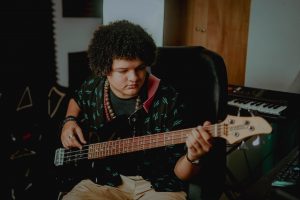 In an interview with Shy Melomano, he confessed that music wasn't his first choice. Originally, he wanted to be a programmer, and later a psychologist. He went to university for a while to be a psychologist, but stated, "When I would get home from university, I would start making beats and songs I would like to see played in videogames or videos, and I would get angry at myself for having to spend time on psychology instead of music." There he realized that instead of doing psychology, he should pursue his real passion, music.
Ariel boldly confirmed that he has never thought of giving up his dream because he doesn't know what it would be like to not create anything in any aspect, alluding to the fact that he is a true artist at heart. He was signed to a German record label in 2020, Vinyl Records, but hasn't released much music with them since then. 
Shy Melomano explained that the music industry has a whole world that most people don't know about. These alternative artists come together in online communities and groups, as is the case with the LoFi community here in the Dominican Republic. He stated that he is close friends with other famous LoFi artists like  n o r m a l,  Onigirizu, and Manuross, confirming that he is the one who brought most of these artists together. 
He has a very positive outlook on upcoming artists in the alternative scene. "They like to mix genres, and that's something amazing. They are all multitalented and very independent with their work. That's great for collective growth." Ariel assures us that aspiring artists should learn to promote themselves and not wait for a record label to start their careers. These days, there are many platforms where they can promote their work, such as Spotify, YouTube, Instagram, etc. " Today is the best time to be an indie artist," he guaranteed, mentioning that new indie (independent) artists don't need to spend much money to get themselves out there.