Several transport units of the Monumental company catch fire in Bávaro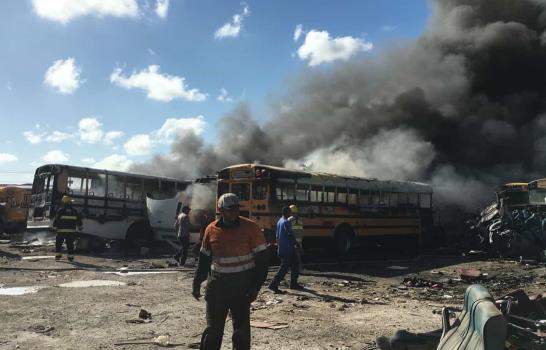 Source: External
A fire affected several buses of the Monumental company in the Bávaro area this Wednesday morning. The information was confirmed by the Department of Risk and Disaster Management of Verón Punta Cana (DGRD). They establish which fire fighting units of the Verón Punta Cana Fire Department are operating in said fire.
Several buses from the Monumental company in the Bávaro area have been affected. So far, there are no people injured, however, health units, the National Police, and the Central Directorate of Tourism Police (Politur) are on the scene. A command post has been installed on the scene, for the coordination of emergencies. They will be offering details according to the development and evolution of the emergency.
In that order, according to an official source, the fire originated in the Monumental transportation company, located at C/ prolongación Avenida España, sector El Hoyo de Friusa, Bávaro. Several buses have been burned, but they do not establish quantities. So far the cause of the accident is unknown.