Bidding for more than RD$ 400 million for the construction of several works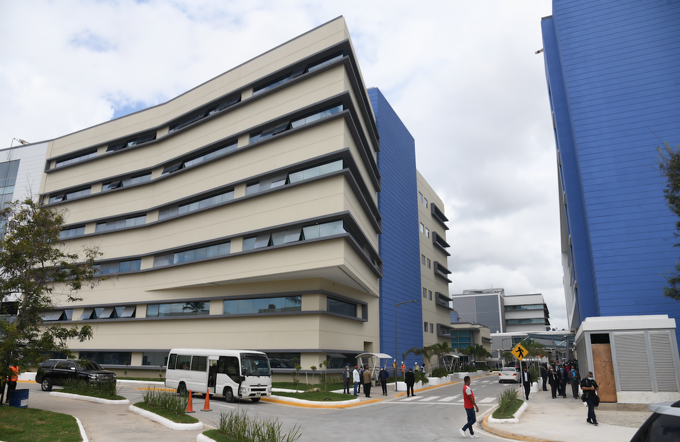 File photo of the health city.
Santo Domingo, DR
The Ministry of Housing, Habitat and Buildings (Mivhed) opened a national public tender, estimated at RD$404,546,557, for the construction of several works and equipping the Dr. Luis Eduardo Aybar sanitary city.
This was revealed in a publication posted on the website of the General Directorate of Public Contracting (DGCP), which detailed that the aforementioned amount would be spent on eight works, as well as the equipping of the Luis Eduardo Aybar.
Of all these projects, the most expensive will be the construction of the Polideportivo Los Jardines del Norte, valued at 91.4 million pesos, which will also have a maximum execution time of 18 months, according to the specifications of the work.
This is followed by the construction of the Psychosocial Centers I and II, with an estimated cost of RD$74,467,966 and RD$74,653,086, respectively, which will be located in Higüey, La Altagracia province, and Moca, Espaillat.
Almost reaching RD$42 million is the renovation of buildings, landmarks and monuments of the Plaza de la Cultura in El Seibo.
Also close to this figure is the construction of the Cristo Redentor stadium in the Los Girasoles sector of the National District, which is valued at RD$42 million.
Similarly is the repair of the roof of the Hippodrome, which would cost some RD$19,159,156; the construction of the billing area Robert Reid Cabral Pediatric Hospital, RD$17,621,194; and the construction of the police detachment of Café de Herrera.
Sanitary city
Likewise, there is the equipment for the sanitary city, ranging from an automated biochemical analyzer to a pair of vortex agitators, which, including other materials, exceed 45.7 million pesos.
The latter is highlighted due to the lengthy process of opening the Luis Eduardo Aybar, which at the end of July of last year was finally inaugurated the consultation building, despite the fact that it was previously scheduled for last April.
Requirements
The bidding documents specified that the bidders must have the professional and technical qualifications that "ensure their competence, financial resources, equipment and other physical means, reliability, experience and the necessary personnel" to carry out the contract.
They must prove that they are not in a state of bankruptcy or liquidation; that their business has not been placed under judicial administration; and that their business activities have not been suspended and no legal proceedings have not been initiated against them.
On the other hand, they must prove that they have complied with their tax and social security obligations; that they meet the technical specifications described above; that they are legally domiciled and established in the country; and that their social purposes are compatible with the contractual object.