New Year: Police personnel are ready to guarantee security and order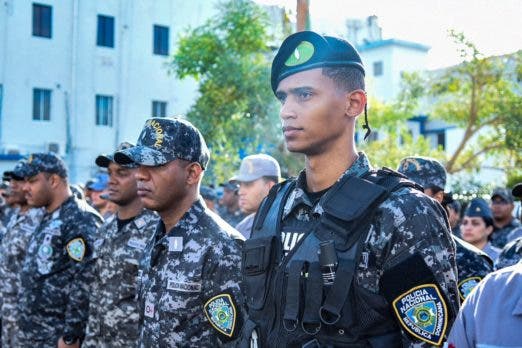 Police personnel are ready to ensure security and law and order
The high command of the National Police, represented by Generals Pedro Cordero Ubrí, Máximo Ramírez De Oleo, and Claudio González Moquete, Inspector General, Director of Human Resources and Central Director of Prevention, respectively, called out more than 500 agents who, from the early hours of this Saturday, December 31, 2022, will reinforce the preventive patrolling in Greater Santo Domingo, during the holiday for the end of the year which was extended until January 2, 2023.
It should be noted that this is the first time that this personnel, including the director general's escort, have voluntarily joined these preventive tasks, demonstrating their vocation of service for peace and citizen security.
The training of the agents, assigned to the different specialized areas of the police force, was held in the courtyard of the headquarters of the institution, where they received the usual diatribe from the general officers who urged them to safeguard at all times the tranquility of the citizens and to give one hundred percent in the mission conferred to them in the name of Major General Eduardo Alberto Then, Director General of the National Police.
Police personnel are ready to guarantee security and order.
"This is a time of sacrifice, where all police members who have more than two years know that during this Christmas period, we must patrol the streets to protect the citizens, for the benefit of the homeland, and the institution must look good in the police service that we must provide at the end of the year," said General Gonzalez Moquete.
The Central Director of Prevention added that their mission on this occasion entails a lot of sacrifices, especially because of the extension of the year-end festivities that include the following Monday, January 2, 2023.
"All of us must make sacrifices in the service, and do it with decorum and protect the citizens, so thank you very much and congratulations," said the general officer.
General Pedro Cordero Ubri, Inspector General, reminded the police officers that when they go out on the streets, they must always act within the framework of the law, respect the people's fundamental rights, and defend the citizens from law and order violators.
"You are going to go out to the streets to protect public order, public property, private property, against those who violate the rules," said the inspector general of the institution.