Woman requests A + blood for a victim of a collapsed building in Las Terrenas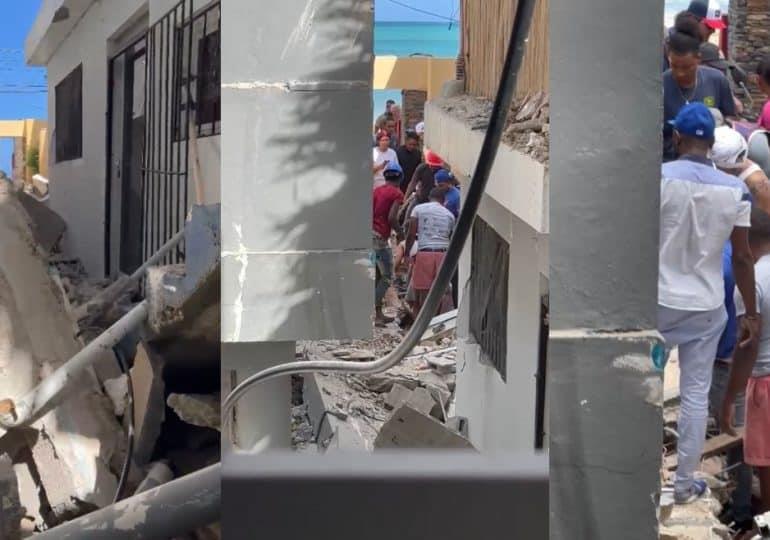 The wife of Italian Stefano Benvenuto, who was injured after a building collapsed in the Pueblo de Los Pescadores sector of the municipality of Las Terrenas in Samaná province, requested A+ blood donors on Monday. "He is in intensive care and he is bad, very bad right now," Elisa Colón Sánchez told Diario Libre over the phone. Colón Sánchez stated that her husband owns the restaurant "La Choza," which is right next to the collapsed Gaia nightclub.
"He was leaving for the business above the house when the collapse happened, and he was trapped beneath the rubble," she explained. Sonnia Baby, the entertainment center's owner, confirmed that the building was being remodeled to become a casino. Benvenuto was rescued by community members who worked together to pull him from the rubble.
The roof and walls of the building in the Pueblo de los Pescadores sector, in Las Terrenas, collapsed and left one person injured. The collapse occurred at approximately noon. Without the help of authorities or firefighters, locals carried out rescue work for 25 minutes to pull a man who was near the scene from the rubble.
"We took him to the Las Terrenas International Center, and they referred us to the Advanced Medicine and Telemedicine Diagnostic Center (Cedimat)," Sánchez explained. Donors can go to Cedimat, which can be reached at (829) 630-2545 or 829-450-9394.