Water supply crisis continues in neighborhoods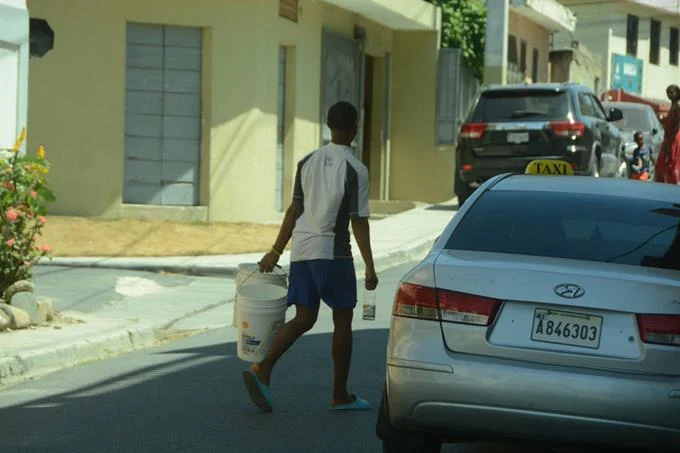 The lack of water creates inconveniences to residents of different communities. Leonel Matos
Santo Domingo, DR
The water shortage that worries residents of some sectors of the capital city is a problem that has been "gaining strength" in recent weeks.
Residents of communities such as Las Flores, in the Pantoja sector, Pueblo Nuevo, in the municipality of Los Alcarrizos, and Arroyo Bonito, in the Manoguayabo industry, have shown their alarm at the lack and delay in the water supply.
"Chaotic" is how Morena de los Santos Peña, a member of the neighbors' board, cataloged the deficit concerning conserving that liquid substance in the Las Flores neighborhood, where she has been residing for 16 years.
"We have not received water for about 15 days in some parts of the sector," Peña denounced to Listin Diario newspaper. To this reality, a resident of the Pueblo Nuevo sector also adds, alleging that there is also a water shortage in the perimeter where he lives. "Right here, there have been six days that the water has not arrived consecutively," said the community member, whose name was omitted.
In a tour of Arroyo Bonito street, in the Manoguayabo sector, Listin Diario noted the same difficulty that has plagued the other neighborhoods of the capital.
"Right now, there is no water," said Florida Mella, referring to that place.
Féliz Lorenzo García, a community member of that locality, indicated that he had had more than "two weeks" without receiving water.
"I am carrying buckets around… the water is a mess around here," said Lorenzo García while he shared with Mella.
Diseases
Public Health Minister Daniel Rivera said that the water shortage, from a health perspective, is linked to "hygiene" degradation in "hand washing and good quality food."
Rivera said this shortage would cause "water diarrheic" diseases such as "intestinal parasitosis, escherichia coli and campylobacter."
He also said that it could increase "conjunctivitis and pyodermitis."
Recommendation
The public official recommended the Dominican population cover the tanks where large quantities of water are stored.