Incident in front of the Palace of Justice: protesters break windows and police throw tear gas canisters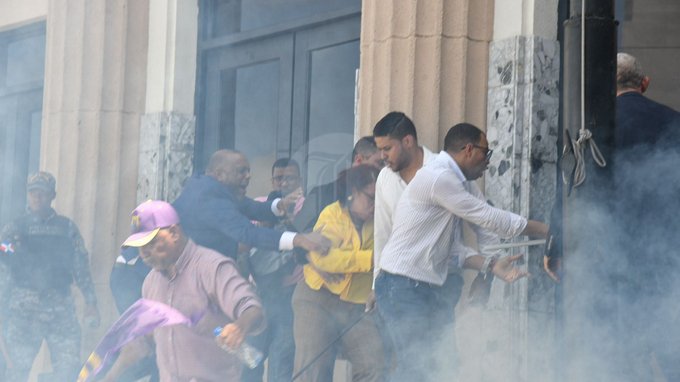 Hundreds of supporters of the Dominican Liberation Party gathered this noon outside the Ciudad Nueva Palace of Justice to protest the arrest of former officials of the government of Danilo Medina. Shouting slogans such as "We are peledeistas (the term for people who side with the PLD) we are not afraid", "PLD united will never be defeated" and "E' pa' fuera que van" (loosely translated to we're kicking them out of here), the peledeistas took up positions in front of the judicial institution wearing their characteristic purple color and waving the PLD flags. During the protests, the peledeistas broke windows in the Palace of Justice and the police launched tear gas canisters to disperse the group.
The protesters of the political organization expressed their rejection of the arrest of the former Ministers of Public Works, Gonzalo Castillo; Donald Guerrero, and Administrative of the Presidency, José Ramón Peralta. Both the three former officials and twelve other defendants accused in the Squid operation for alleged fraudulent actions. According to the Public Ministry, the investigation against the group of former officials of the government of Danilo Medina, is related to the expropriation of land in protected areas, in order to subtract more than RD$ 19.6 billion from public funds by way of transactional agreements.
Minutes before, the leadership of the PLD asked the Public Ministry to investigate President Luis Abinader since they allege that his campaign financing comes from drug trafficking. Charlie Mariotti, general secretary of the party, said that "the Public Ministry is acting as an instrument for the reelection of Luis Abinader."