Dominican State filed lawsuit against detainees in Calamar case and others involved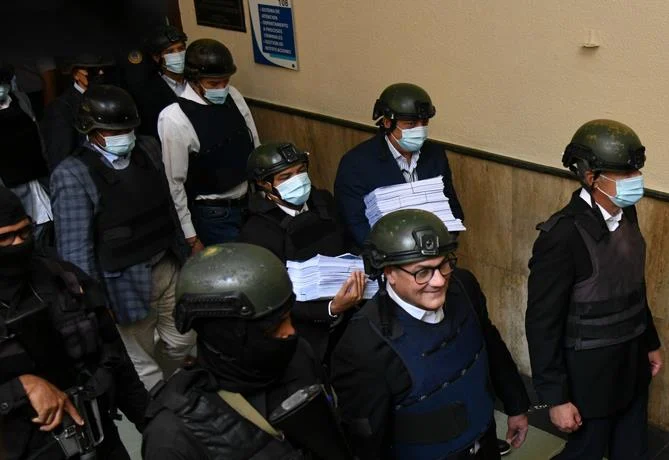 Santo Domingo, DR.
The Dominican State filed a civil action against the detainees in the Calamar case and other persons who did not appear in the request for coercive measures of the Public Prosecutor's Office.
The complaint was filed by lawyers Jorge Luis Polanco, Manuel Conde Cabrera, Sostenes Rodríguez Segura, Fabian Melo, and Keyma Marra Martínez, who are part of the Public Patrimony Recovery Team (ERPP), on 05 April 2022.
The lawyers of the State represent the Ministry of Finance, the Comptroller General of the Republic, the General Directorate of National Assets, the General Directorate of National Cadastre, the State Sugar Council (CEA), the Dominican Agrarian Institute (IAD), the Ministry of Housing, Habitat and Buildings, in its capacity as the Legal Continuing Legal Advisor of the Office of Supervising Engineers of State Works (OISOE).
The civil plaintiffs are Ángel Donald Guerrero Ortiz, Daniel Omar de Jesús Caamaño, Luis Miguel Piccirilo Mc Cabe, Claudio Silver Peña Peña, Emilio Olivio Toribio, Gonzalo Castillo Terrero.
Also Ramón David Hernández, Ramón Emilio Jiménez Collie, J osé Arturo Ureña Pérez, Fernando Crisóstomo Herrera, Efraím Santiago Báez Fajardo.
Likewise, the accomplices Simón Lizardo Mezquita, Andrés Guerrero, Ramón Nicolás Jiménez Díaz, Pedro María de la Altagracia Veras, Marcos Antonio Martínez Hernández, Álvaro Jiménez, José Alexis Robles and Oscar Ramón Ortiz.
Also to the civilly responsible third parties, the successors of Emilio José Rivas Martínez, Bethania Altagracia Rivas Martínez, Emilio Manuel Rivas Nepomuceno, Domingo Enrique Martínez Reyes, Oficina de Abogados Alexis Robles SRL, Grupo Amerinova SRL, Tenedora Catania Corp, SRL; Vectra Consulting SRL and Sociedad Inmobiliaria El Algodonal SRL.