Abinader to international community on Haitian crisis: "You have to pacify Haiti"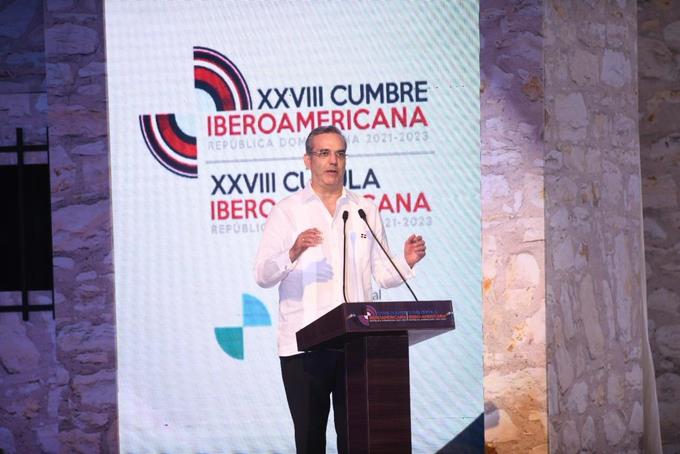 Luis Abinader. Photo: Víctor Ramírez.
Santo Domingo, DR
The president of the Republic, Luis Abinader, affirmed this Saturday that the only solution that the international community can offer to the crisis that the Haitian people are going through is pacification.
"The only way to act with Haiti is to pacify Haiti, if you want to help Haiti you have to go to pacify Haiti, it is not with other speeches, that is the way," said the Dominican president.
Abinader made these statements during the XXVIII Ibero-American Summit, where several heads of state from Latin America and Europe participated.
At the meeting, the president assured that the other countries could not allow the situation in Haiti to continue, alleging that those who suffer are the poorest in that country since the richest reside in other nations.
"The international community cannot allow this situation to continue in Haiti. Those who are suffering are the poor Haitians. The few rich are in Miami or in the Dominican Republic and every day with these gangs there are violations and more violations of all human rights, and violations also of the integrity and dignity of the poorest level of the Haitian population," he said.
Likewise, he concluded his intervention by asserting that "pacification" is the only way to alleviate the Haitian crisis.
He responded to Costa Rica
Abinader's statements were in response to what was said by his Costa Rican counterpart, Rodrigo Galves Robles, who was the first to raise the issue of Haiti, calling on the United Nations to provide an immediate response to the requests to bring that country back under control and to control the violence that exists in this nation.
Galves Robles pointed out that criminal groups control 70% of Port-au-Prince's territory, and we cannot ignore that.
"We cannot negotiate with the three big criminal gangs; they say we have to call for elections," but he wondered who would win those elections.
"We have to put out the fire before we ask ourselves how we are going to rebuild that house; it is not by postponing it or ignoring it. We are here today in the DR, on the same island where there is a failed state, where there is violence, and the world is looking the other way again. Therefore, I do not think it is fair to tell the DR to send armed forces, this is a global responsibility, and we are not taking care of it," said the Costa Rican president.