Emergency area in Barahona Hospital in high demand on Good Friday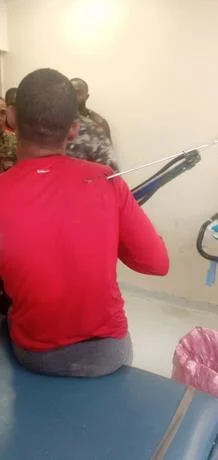 Ramón Urbáez, 32, a resident of the La Peñuela sector with a fishing harpoon stuck in his back that was accidentally caused by a companion when both were fishing on the hill "El Curro". Photo: Benny Rodriguez/LD.
Barahona, DR
The emergency area of the Jaime Mota Regional University Hospital (HRUJM) was busy this Good Friday due to the number of patients who arrived for various reasons, mainly due to traffic accidents involving motorcycles.
Injured in motor vehicle accidents were Eleodoro Medina Matos, 66, Nashla Ramirez, 6, Elias Cuevas Rubio, 26, Brayelin Peña, 14, Luis David Rodriguez, 26, Nelson Daniel Peña Segura, 37, and Luciano Jimenez, 28.
Ramón Urbáez, 32 years old, a resident of the La Peñuela sector of Cabral, was taken to the local hospital's emergency room because of a fishing spear stuck in his back, accidentally caused by a companion when they were both fishing on the "El Curro" hill.
The cases are from Batey VIII, belonging to Cristóbal and others from the provinces of Independencia, Bahoruco, and Barahona, as well as from the municipality of Tamayo. Many of them were admitted to this health center.
So far, in Barahona province, there are no records of deaths within the Easter Week: Conscience for Life, 2023 operation, except for the death of a man from Azua de Compostela who hit the motor he was driving with a vehicle near the Vicente Noble intersection.
Dozens of people moved toward the different communities of the coastal area, many of them to visit beaches, rivers, and mountains. However, despite the large number of vehicles that moved towards that part of the province, there are no reports of traffic accidents.
In addition, the different neighborhoods have remained calm during this Good Friday. In the early hours in other sectors, citizens took out their swimming pools for children and adults to bathe, despite the prohibition due to the drought affecting the country.