COE Raises alert levels due to trough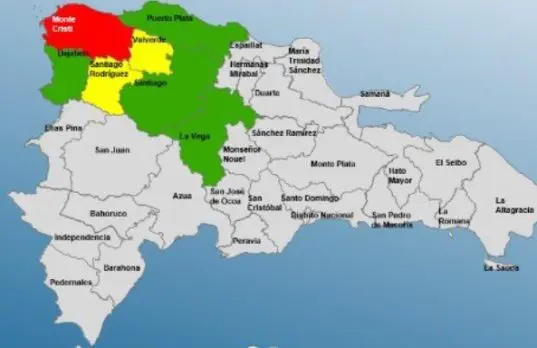 The Emergency Operations Center (COE) placed one province on red alert, two on yellow, and four on green alert for possible flooding of rivers, streams, and creeks, as well as flash or urban flooding, due to a trough in the troposphere levels that could generate rain.
The provinces under red alert are Montecristi, spatially: Martin Garcia, Guayabito and Rincon, Manga, and Cruce de Manga. While in the yellow warning are Santiago Rodríguez and Valverde. Meanwhile, La Vega, Santiago, Dajabón, and Puerto Plata are on the green alert.
In addition, the COE recommends people refrain from crossing rivers, streams, and creeks that present high volumes of water and not use bathing resorts in the provinces under alert.
Latest Onamet report
Weather conditions over the Dominican Republic will remain dominated by the incidence of a trough; consequently, moderate to heavy rains with thunderstorms and occasional wind gusts will be generated, towards provinces such as Santiago, La Vega, Monseñor Nouel, Monte Plata, El Gran Santo Domingo, San Pedro de Macorís, among others, especially during the afternoon, according to the National Meteorological Office.
Meanwhile, during the night, the Onamet forecast that these precipitations will be concentrated in the localities of Montecristi, Puerto Plata, Dajabón, Santiago Rodríguez, and Valverde.