Anthony Francisco Liriano, the young man who went from delivery to mathematician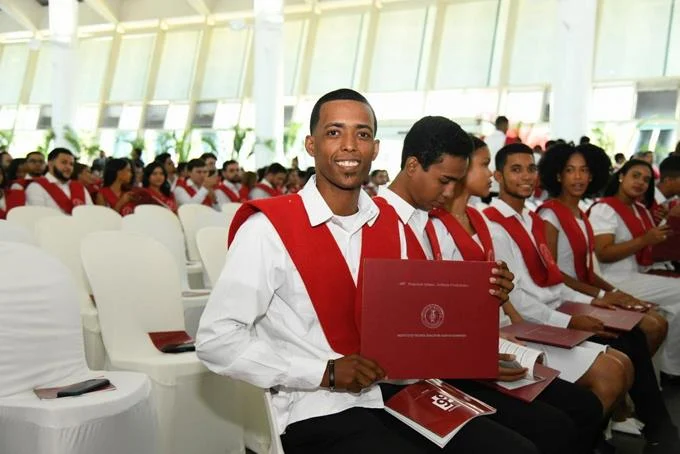 Anthony Francisco Liriano posa con su título universitario / Victor Ramirez
Santo Domingo, DR
Young Anthony Francisco Liriano went from driving the reins of an engine to driving and solving numerical formulas after obtaining a degree in Mathematics, mentioning a secondary level at the Technological Institute of Santo Domingo (Intec) this Saturday.
Before graduating as a mathematician, Francisco Liriano worked as a delivery man for a grocery store in the crowded sector of La Puya de Arroyo Hondo in the National District while working for other delivery platforms.
Despite the adversities that came his way along the journey that culminated on Saturday afternoon, he remained firmly focused on finishing the degree he can boast of today.
For now, as a mathematician, the motivation of his family, especially his maternal grandmother, Timotea Amparo, was fundamental in his professional training process since his grandson was not very attracted to attending classes.
Despite his little attraction towards studies, Francisco Liriano finished high school. Then, he started a degree in Accounting, which he abandoned soon after realizing his little vocation for this discipline.
But he did not stop. He kept training in other trades, such as barbering, and working as a deliveryman over his parents' concern.
Regardless of the number of obstacles he faced, he continued searching for his true north.
Inafocam
During this time, the Instituto Nacional de Formación y Capacitación del Magisterio (Inafocam) came into his life. This institution awakened the young man's legitimate vocation and made his dream of becoming a graduate possible.
The young mathematician discovered Inafocam while walking through one of the Santo Domingo Metro stations. He saw an advertisement of the institute offering scholarships for studies in education and started with the paperwork.
"I saw an advertisement offering scholarships to study education, this motivated me to do all the paperwork and put all my efforts to become the teacher I am today," explained Francisco Liriano, who was awarded one of Inafocam's scholarships.
This would only be the beginning of a long road, which he would finish four years later with the certification of Intec during the sixty-sixth graduation. In this academy, he completed his degree.
Along with Francisco Liriano, another 803 people graduated in different undergraduate and graduate disciplines. Most of them were women.
The current professional works as a math teacher at Genial Montessori School, an educational center for children who require special education. He wants to continue expanding his knowledge and specialize in Algebra.
"After reaching this great achievement, I would like to continue specializing in Algebra and work teaching at the university level," he said.
Competencies Achieved
Vocation, patience, and commitment are part of her competencies achieved at the professional level, so stated Francisco and Juana Liriano, his parents, along with his colleagues, Saturnino Hernández, Project Director, and Erika García, Genial Montessori classroom tutor, respectively.
Motivations
Francisco Liriano's reason for reaching his goal was "to be able to fill his parents and grandmother with pride and joy for all that they have fought for him to be the professional he is today."
Another motivation is the happiness he gets from the happy faces of the children he teaches when they understand a mathematical subject explained by him, as well as the possibility of contributing a grain of sand to Dominican education.
Thanks
Anthony Francisco is infinitely grateful to the support of his family as well as to Intec for their contributions to his professional training.
Reflection on the Youth
He also urges young people not to underestimate or give up in the face of life's obstacles and to remain firm in pursuing their dreams, no matter how difficult they may seem.
"If I, who come from the Puya de Arroyo Hondo, was able to become a professional despite all the obstacles I had in life, I know that you can also achieve it," urged the mathematics teacher.