Man arrested in the Dominican Republic for receiving 26 firearms in basic necessities tanks from the United States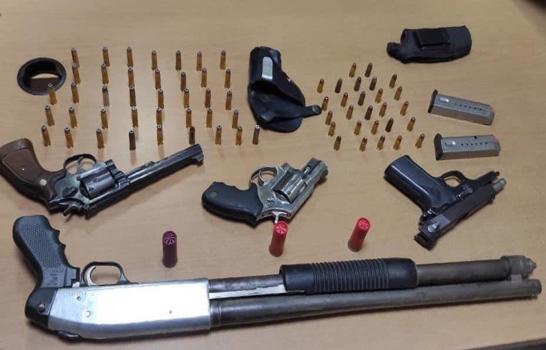 Police officers from the Special Division for the Investigation of Transnational Crimes (DEIDET) in the Dominican Republic have arrested a man identified as the intended recipient of 26 pistols, three rifles, and one revolver sent from Brooklyn, US. The weapons were concealed in two tanks containing basic necessities intended for delivery to the municipality of Tamboril in Santiago province. The man, identified as José Manuel González Díaz (Jochy), was captured by arrest warrant No. 00898-2023. The police officers followed the accused until his arrest on May 7, 2023, in front of the police detachment of the municipality of Salcedo, Hermanas Mirabal province.
Another tank, sent from the same city, was confiscated, containing 18 firearms, including 16 pistols, a rifle, and a revolver with their respective chargers. The operation was carried out in coordination with the General Directorate of Customs (DGA), the Public Ministry, and the support of Homeland Security Investigations (HSI) in the framework of the development of an investigation against a Transnational Criminal Organization (OTC) dedicated to the smuggling of firearms, ammunition, and accessories, through the different ports and airports of the country. This type of crime constitutes a clear violation of Law 631-16 for the Control and Regulation of Weapons, Ammunition and Related Materials, and Law 155-17, Against Money Laundering and the Financing of Terrorism.
The accused will be placed at the disposal of the Public Ministry for further investigations regarding the seized weapons. The crime of arms trafficking is the trend most widely perceived as a "high" or "very high" threat for the countries of the Americas and the Caribbean region, as highlighted in the most recent Report on Crime Trends at Scale World Cup of the International Criminal Police Organization (Interpol) 2022. The Interpol Report brings together the data provided by the 195 member countries of the organization, to which is added information from the entity and other sources.