Sócrates García and the Compass Jazz Orchesta in the Dominican Republic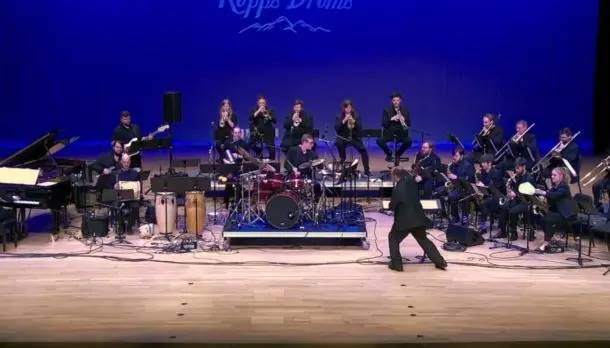 On Wednesday, May 31, the Carlos Piantini Hall of the Eduardo Brito National Theater will welcome the prestigious Compass Jazz Orchestra of the University of Northern Colorado (UNC), conducted by Dominican composer, producer, and director Sócrates García.
The arranger, recording engineer, guitarist, and educator, a native of Constanza, based in the State of Colorado in the United States, said that "performing on the most important stage of my country is a dream come true, with this incredible band and with many of my compatriots on the same stage."
García said that in the concert at the National Theater, open to the public, they will play original pieces by the band and his own compositions, where Dominican and Afro-Caribbean genres are mixed with the contemporary jazz orchestra.
Sócrates García
The repertoire will include music from his album "Back Home," which has been highly praised in U.S. jazz magazines and publications and broadcast on specialized radio stations in the U.S., the Dominican Republic, and the rest of Latin America, Spain, and Australia, among others.
This album was also awarded the Gold Medal at the Global Music Awards. It will also include some of the songs that are part of his next album.
Students and ensembles from UNC's Jazz Studies program have won many accolades, including a Grammy nomination and over 150 Down Beat Student Music Awards.
Local guest artists
Socrates reported that Dominican guest musicians include Leo Pimentel (piano), percussionists Felix "el Abuelo" Garcia, Florentino "Magic" Mejia, Ramon de Castro (Papatin), and Edis "El Guru" Sanchez (percussion).
Masterclasses and mini-concerts
Garcia told Alegria! that on this tour, which is sponsored by the U.S. Embassy and supported by the DR Ministry of Culture, he will give, along with 13 professors from the UNC jazz department, master classes, workshops, and mini-concerts at the National Conservatory of Music, the Autonomous University of Santo Domingo and the Pedro Henríquez Ureña National University.
"I hope that this exchange will serve to open more doors for our students from the country and to share our rich Dominican musical culture with our UNC students and professors," García expressed.
He highlighted the participation of virtuoso trumpeter Brad Goode (who has already been with him in the country, playing at the 2016 Restoration International Jazz Festival) and Dominican drummer Ivanna Cuesta (a CNM student and graduate of Berklee College of Music.