Abinader and the Minister of Women lead an act for the 81st anniversary of the female vote in the Dominican Republic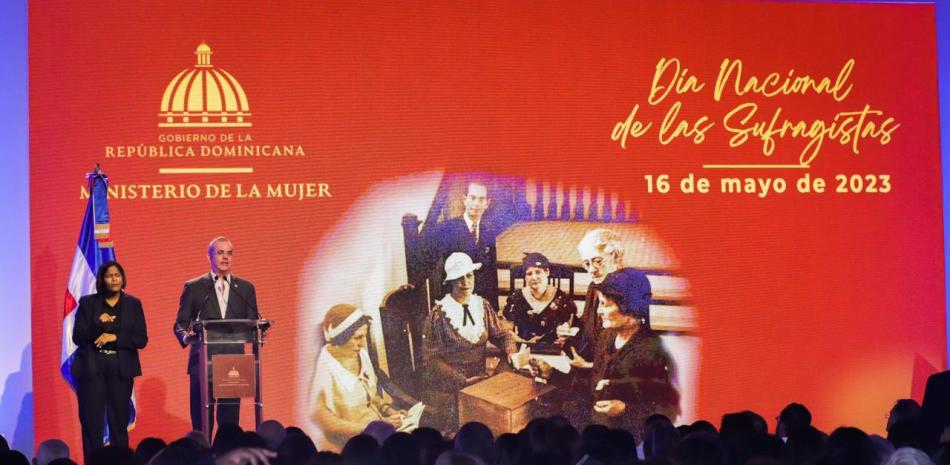 Santo Domingo.- The Ministry of Women, led by President Luis Abinader, organized an event on Tuesday to commemorate National Suffragettes Day in the Dominican Republic. This year marks the 81st anniversary of women's influence in shaping society and the progress made in democracy, politics, social issues, economics, and women's rights in the country.
The event highlighted the contributions of notable women who played crucial roles in achieving female participation in elections. These include Abigail Mejía, Ercilia Pepín, Patria Mella, Amada Nivar de Pittaluga, Celeste Woss y Gil, Delia Weber, Carmen González de Peynado, Aida Cartagena Portalatín, Elila Mena, and Carmen Lara Fernández, among others.
President Abinader emphasized that the right of women to vote in 1942 was a cornerstone for the consolidation of democracy and the recognition of women's political citizenship. He further announced Decree 164-23, which orders the transfer of Abigail Mejía's remains to the National Pantheon, an honor reserved for prominent historical figures in the country.
Minister for Women, Mayra Jiménez, expressed pride in the Dominican Republic's pioneering recognition of women's rights. She declared that May 16 will now be commemorated annually to recognize the women who achieved this significant milestone. However, Jiménez emphasized that the fight for full citizenship for women continues and highlighted the ongoing struggle for female representation in political parties and groups based on territorial demarcation.
The event served as a reminder of the progress made by women in the Dominican Republic and the importance of continuing to advocate for gender equality and women's rights.