Students cross hazardous walkway to reach school in Santiago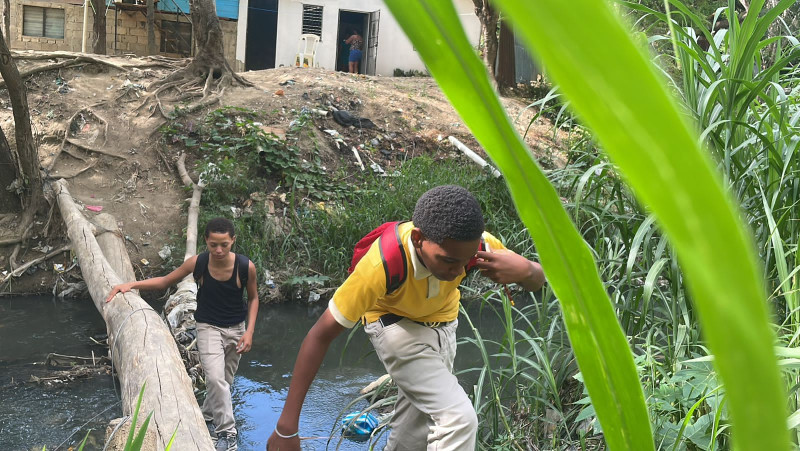 Santiago.- Children from the Miraflores II sector in Santiago face a hazardous journey to school every day. In order to cross to the other side of the neighborhood, they must navigate an improvised walkway made of sticks and tree trunks, which prevents them from falling into the contaminated waters of the Gurabo stream.
These young students, as young as four or five years old, make this risky journey ten times a week, carrying their clean uniforms, backpacks, and schoolwork. The situation has become a regular part of their daily lives.
The children are well aware of the dangers they face, particularly when heavy rains cause the stream to flood, washing away the makeshift walkway. In such cases, they have to change their route and walk for up to 40 minutes along Estrella Sadhalá Avenue to reach their schools. This busy road poses additional risks due to its high traffic flow.
Residents of the Miraflores II sector, like Ana Rodríguez, confirm that this problem has persisted for a long time. When the poles on the walkway are swept away, they have to wait for the water to recede before volunteers can venture into the stream to restore the structure.
The children understand the challenges and adapt to the circumstances, organizing themselves into groups and hugging the sidewalk along the busy avenue to ensure their safety.
Their resilience and determination to pursue education despite such obstacles highlight the urgent need for better infrastructure and safety measures to protect these young students on their daily journey to school.