PLD marches in Santiago in protest against the high cost of living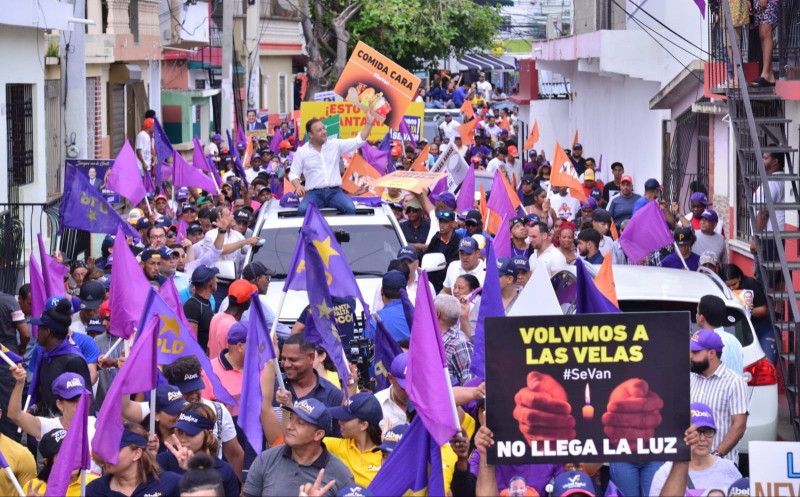 March headed by Abel Martinez in SantiagoPLD
The Dominican Liberation Party (PLD) marched this Saturday through the streets of Santiago, in a protest led by Abel Martínez, against the "disinterest for the people" demonstrated by the Modern Revolutionary Party (PRM).
The march, and walk, began at the Sameji Club.
"Assume your responsibility, because this country deserves a responsible, capable and prepared leadership, who knows how to retake the course and take us forward again," proclaimed the president of the PLD in Santiago Antonio Peña Mirabal.
The members of the purple party walked through the streets of the neighborhoods of El Ejido, Mejoramiento Social, and Ensanche Bolívar, concluding in the sector known as Platanitos in the vicinity of the Cibao Stadium.
The members of the purple party showed posters, signs on cardboard, and placards protesting the high prices of food, and medicines, and the insecurity experienced by the Dominican people.
"Eggs at nine pesos, chicken at 95 pesos, rents through the roof. A bottle of water at 100 pesos. We do not want trips in Yola nor the trip around Mexico. Abandonment of the countryside. We can't stretch the peso any longer. Our old people are dying for expensive medicines. Everything goes up, nothing goes down. Uncertainty in the neighborhoods due to lack of security. Nobody can stand this," were some of the phrases written.
Abel Martínez was joined by his colleagues Jaime David Fernández Mirabal, Ramón Ventura Camejo, José Ramón (Monchy) Fadul, Francisco Domínguez Brito, Johnny Pujols, Carlos Amarate Baret, and Yván Lorenzo, among others.
Also, the candidates for the different elective positions and the current congressmen and councilmen in Santiago de los Caballeros, and the members of the provincial and municipal leadership walked along the route.
"The PLD hurts the people. We have always defended and will always defend those who have the least, the workers, those at the bottom, because we want a fairer country, where the rights of all are respected and above all, where we govern for all, not just for a privileged few" said Antonio Peña Mirabal.