Dominican Academy of Sciences requests investigation after death of fish in Azua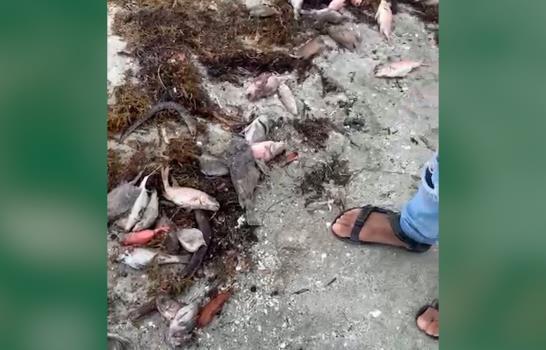 Santo Domingo.- The Academy of Sciences of the Dominican Republic has called on the Ministry of the Environment to investigate the mass death of fish discovered at Los Negros beach in Azua over the weekend.
In a statement, the Academy reported significant mortality of marine fish from at least five families: Monacanthidae, Balistidae, Morenidae, Serranidae, and Pomacentridae. These species were identified in a preliminary report.
The institution reiterated its concern about the presence of two power generation barges owned by the Karadeniz Powership company within the Puerto Viejo Manglares Wildlife Refuge. Although the Ministry of the Environment claims that these structures are located in the buffer zone and not within the protected area, the Academy argued that the species dying are actually within the protected area.
According to the Academy, water should not be considered a physical barrier for the designation of a buffer zone, as the purpose of such an area is to prevent situations where life is endangered and species are unable to find refuge for survival.
The Academy emphasized the need for clarification regarding the incident. The Karadeniz Powership company received an environmental license based on an Environmental Adaptation Plan to address major environmental impacts. The responsibility for protecting the integrity of the Puerto Viejo Manglares Wildlife Refuge lies with the Vice Ministry of Protected Areas.
The Academy highlighted that the Puerto Viejo Refuge is a highly sensitive protected area in terms of coastal-marine biodiversity in the Dominican Republic. It is a lagoon or marine lagoon trapped on land, separated from the Caribbean Sea by barrier reefs, mangroves, and small cays that are home to migratory birds.