COE declares a Green Alert in 9 provinces due to heavy rains and possible flooding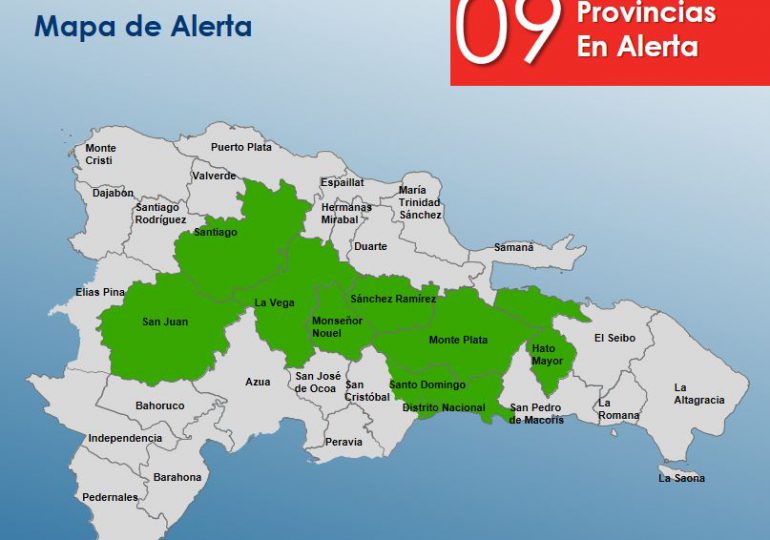 Santo Domingo.- The Emergency Operations Center (COE) has issued an alert statement in response to a meteorological bulletin from the National Meteorological Office (ONAMET). The bulletin predicts the combination of a tropical wave and a trough, resulting in clouds, heavy downpours, electrical storms, and gusts of wind in various regions of the country.
A green alert has been issued, effective from 1:00 pm today, covering several provinces in the Dominican Republic. The affected areas include San Juan, Monseñor Nouel, Santiago, Sánchez Ramírez, La Vega, Monte Plata, Hato Mayor, Santo Domingo, and the National District.
Authorities are urging the population to take necessary precautionary measures against possible flooding of rivers, streams, ravines, and urban areas. Residents living in high-risk areas near these water bodies should remain vigilant and take appropriate precautions.
Citizens are also advised to maintain constant communication with civil protection agencies such as the Civil Defense, Armed Forces, Red Cross, National Police, and Fire Brigade. In case of emergencies or for updated information, contact numbers including 809-472-0909, 9.1.1, and *462 from OPTIC can be used.
It is essential for the population to follow the guidelines and directives issued by the competent authorities regarding civil protection. It is also recommended to avoid crossing rivers, streams, and ravines with high volumes of water and refrain from using spas in the provinces under the alert.
The COE will continue to monitor the weather conditions closely and provide regular updates to keep the population informed about any significant changes.
All citizens are urged to remain calm, stay vigilant, and take all necessary precautions to ensure the safety of themselves and their families during this period of adverse weather conditions.