Abinader presents "Teaching Excellence Award 2023" to five teachers for their outstanding service in the classroom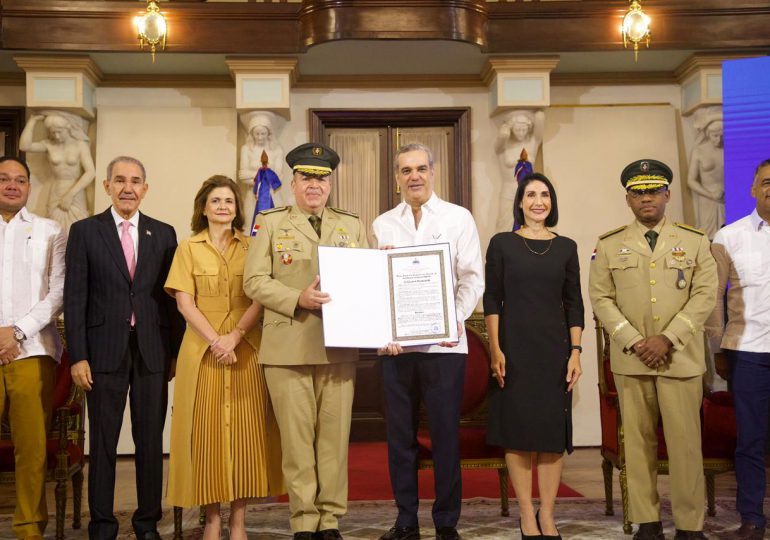 Santo Domingo.- On the occasion of Teacher's Day, President Luis Abinader awarded the 2023 Teaching Excellence Award to five outstanding teachers for their remarkable careers, dedication, and contributions to their student's academic development.
Accompanied by Vice President Raquel Peña and First Lady Raquel Arbaje, President Abinader presented the awards at the Las Cariátides Hall of the National Palace. Additionally, ten teachers received Teaching Excellence awards from higher education institutions in the Dominican Republic.
The recipients of the awards were Digna Mercedes Franco Rodríguez, from the Felipe Soriano Bello Polytechnic in the Educational District 06-02, Constanza, La Vega province, who received the "Pedro Henríquez Ureña" Award in the Honor category for her 27 years of service; Iris Inmaculada de la Cruz Paula, with 21 years of teaching experience at the Manuel Joaquín Cruz School in Educational District 07-06, San Francisco de Macorís, who received the "Eugenio María de Hostos" Award in the Recognition category.
Luis Melvin González Arias, with 16 years of service at the Ana Lilliams Miranda High School in Educational District 04-05, Yaguate, San Cristóbal, received the "Salomé Ureña de Henríquez" Award in the Incentive category. Additionally, teachers Jesús Manuel González Paulino and Ramón Mejía Sánchez were recognized for their outstanding work in the United States.
Education Minister Ángel Hernández emphasized the government's efforts to train teachers to achieve better results in the classroom. As part of this initiative, 24,000 teachers participated in a one-year induction course for the first time, 500 directors underwent pedagogical leadership training, and another 2,500 directors will begin the program in September.
Hernández also mentioned the provision of continuing education scholarships, regularization of district, regional, and national technicians, and plans to regulate monitors and implement competitive hiring for thousands of teachers in the next school year.
He highlighted that teachers now enjoy the highest salaries in public administration, placing them in the highest quintile. The government has also provided thousands of homes to teachers with a special bonus in the Familia Feliz program. Furthermore, President Abinader increased resources for teachers requiring high-cost medicines and initiated the construction of two hospitals in the South and East to enhance medical care for teachers. Additionally, a special bonus will be available for teachers who successfully teach their students to read and write in a timely manner during the 2023-2024 school year.
Teacher Digna Mercedes Franco Rodríguez, speaking on behalf of the award recipients, expressed her pride in being recognized by her country. She emphasized that classrooms are where the limits of the nation are learned and values are developed, and she dedicated the award to her past, present, and future students.