Georgina Batista, from the Dominican Republic, is a finalist for the Global Student Prize 2023
Santo Domingo.- Georgina Batista, 21, a student from Santo Domingo, Dominican Republic, was selected among the top 50 students in the world for the Global Student Prize 2023, a worldwide award that will give US$100,000 to the winning student.
Georgina was selected among 3,851 applicants from 122 countries and was among the finalists for the prize that Chegg.org launched in partnership with the Varkey Foundation in 2021.
The award, now in its third year, is aimed at students who are at least 16 years old and enrolled in an academic institution or training program, and recognizes the extraordinary achievements of young people who are making a real impact on the lives of their peers and society.
A story of self-improvement and growth
Georgina was born with a health condition that affected her ligaments, so activities such as ballet and aerial pole dancing posed unique challenges; she had to work harder than other girls to overcome that situation. Because Georgina used orthotic devices to walk, she received unpleasant comments from others, which affected her confidence.
In addition, she was also diagnosed with epileptogenic focus, caused by untreated celiac disease. But Georgina has never let her illnesses stop her from going after her goals. Despite her difficulties, she has made great achievements and is currently pursuing a degree in Business Management, while building a career as a journalist and communication theorist.
Georgina's love for journalism began when she won some awards for her writing at the various editions of her school's Literary Fair. As a rookie college student she attended a communication class and suggested new ideas for the institution's in-house magazine. Her professor was also a writer and proposed her to be the editor of his latest book.
More recently, Georgina has become part of the team at Quémáshago.com, a social platform that promotes cultural activities, tourism, educational opportunities and self-care items in the Dominican Republic.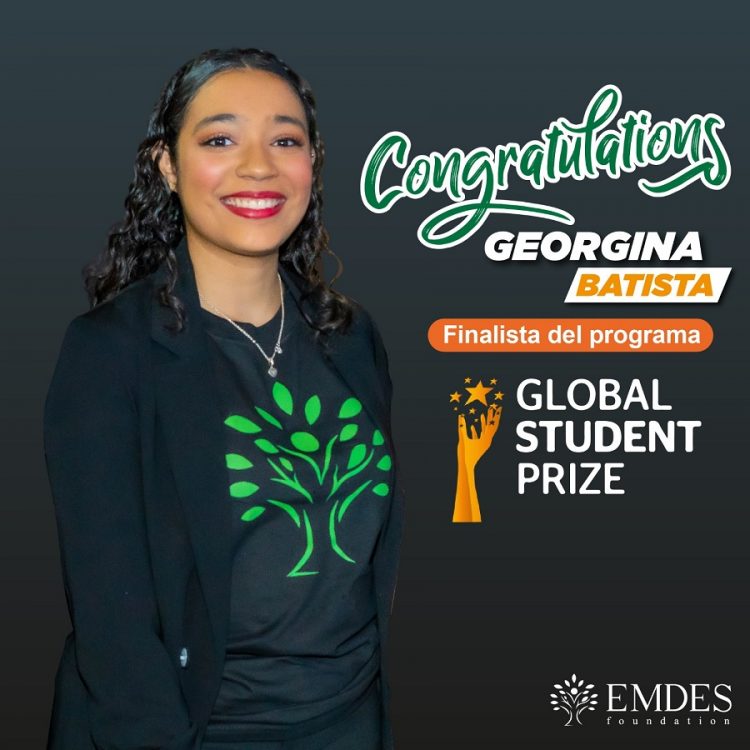 She writes about learning opportunities, personal growth, mental health and small community businesses owned by underprivileged women. Her contributions to this platform have earned her nominations for international and national awards focused on tourism journalism. She is also currently working on an independent platform to share sustainable and socially driven brands and highlight entrepreneurship.
Georgina has also volunteered with the EMDES Foundation, a non-profit organization that promotes entrepreneurship among young people. She continues to be involved with academic work in communications, and recently presented a research paper with her professor for the "El Gusto en el Museo" convention in Spain, analyzing Dominican gastronomy from the perspective of communications and public relations.
She also received the Banreservas Academic Excellence Award six times, and was part of the finalist team for the national Hult Prize 2021 for ideas that help solve compelling and urgent social problems.
What if Georgina wins?
With the funds from the Global Student Prize, Georgina would invest in a project she is working on that involves partnering with brands to fund educational programs or scholarships for girls around the world, in addition to supporting artistic projects.
Part of the funds would be used to develop Umami Creadores, a digital platform and agency that Georgina has been involved in and that connects freelance providers in the communication sector with local and international companies that would normally be out of reach.
Talent at the service of the community
According to Agustín Porres, Varkey Foundation's regional director for Latin America, Georgina's story "could represent that of many young people in the region, where their own potential takes on brilliance thanks to the support of their family and the encouragement of great teachers. And we don't just see a development of personal talent; in her story we see clearly that if they, the students, have real opportunities, that potential becomes an opportunity for the whole community as well."
Heather Hatlo Porter, Chegg.org director and Chief Communications officer, congratulated Georgina and said that "Chegg not only celebrates her achievements, but also the endless possibilities that exist when young minds are driven by a passion for change."
"The 50 Global Student Prize finalists deserve the opportunity to have their stories told and their voices heard. Their dreams, wisdom and inventive spirit will illuminate a more hopeful future for all," she added.
Last year's winner was Ukrainian teenager Igor Klymenko, a 17-year-old student from Kyiv, who moved to the suburbs at the beginning of the Russian invasion to finish his senior year of high school. Sheltered in the basement of his new home, Igor completed his studies while perfecting a mine-detecting drone he had been working on for eight years.
The 10 finalists for the Global Student Prize are expected to be announced in August this year.
The other finalists from Latin America
The other finalists from Latin America are Brian Martínez from Uruguay, Agustina Rojas from Argentina, Elisa Torres Durney from Chile, Maydelith Zuñiga Cabrera from Peru, Santiago Páez from Colombia, Bianca Bearare and Henrique Peixoto Godoi from Brazil, and Fernando Daniel de Lucio Villalobos and Gerardo Murga from Mexico.