Weather today: Scattered downpours expected due to tropical wave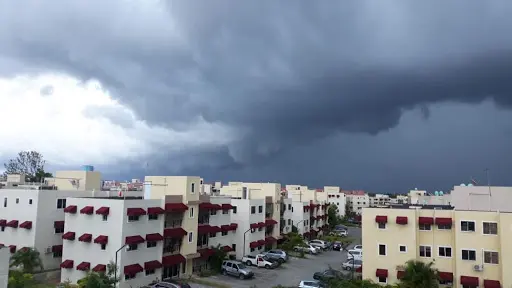 Santo Domingo.- For today, atmospheric conditions will be determined by the humidity left after the passage of a tropical wave that is currently located over Cuba and the effects of a trough south of our territory, reported the National Meteorological Office.
Given this, some showers are expected in the morning hours over towns in the northeast, southeast, and southwest; as well as, other increases in cloudiness during the afternoon until the early hours of the night that will be accompanied by downpours, thunderstorms and possible gusts of wind, towards provinces such as El Seibo, Hato Mayor, Monte Plata, Samaná, Sánchez Ramírez, Duarte, Samaná, La Vega, Monseñor Nouel, Santiago, Dajabón, San Juan, Santiago Rodríguez and Elías Piña.
According to Onamet, during the evening and early morning hours of Monday, another tropical wave is expected to be approaching our area while generating downpours and thunderstorms that will begin in towns in the eastern portion of the country and then move to other provinces in the northeast and southwest of the nation.
For this Monday
By Monday morning, the tropical wave will be transiting over the country, while interacting with the trough that will be placed southwest of our territory, therefore, scattered downpours and thunderstorms will be observed over provinces such as: La Altagracia, El Seibo, Hato Mayor, Samaná, María Trinidad Sánchez, La Romana, San Pedro de Macorís, San Cristóbal, San José de Ocoa, Peravia, Azua, Barahona and Pedernales. In the afternoon the downpours, thunderstorms, and possible gusts of wind will continue, this time towards towns in the Central Mountain Range, Cibao Valley, and border area, such as Duarte, Sánchez Ramírez, La Vega, Monseñor Nouel, Santiago, Valverde, Elías Pina, Dajabón, Azua, San Juan, Monte Plata, Puerto Plata, Espaillat, among others.
During the night and early morning, it may continue to rain, especially in towns in the northeast, southeast, and Central mountain range.
Tuesday
The tropical wave would be moving away, but it is expected that the trough in height and the humidity in our air mass will provide favorable conditions for heavy downpours, thunderstorms and gusts of wind to be observed especially in provinces of the northeast, southeast, southwest, central mountain range and the border area.
Temperatures
Temperatures will continue to be hot for the time of year, in addition, August is one of the warmest months, in that sense, it is recommended to hydrate properly, drink water, wear light-colored clothes, and avoid direct exposure to the sun's rays for prolonged periods, between 11:00 a.m. and 4:00 p.m. It is recalled that the elderly and children are more affected by high temperatures.
| | | | |
| --- | --- | --- | --- |
| PROVINCES | FORECAST BY LOCALITIES | Max. °C | T. Min.°C |
| Santiago | Cloudy increments at times with scattered downpours and thunderstorms in the afternoon. | 34/36 | 22/24 |
| Puerto Plata | Cloudy increments at times with isolated showers. | 35/37 | 23/25 |
| Duarte | Cloudy increments at times with scattered downpours and thunderstorms in the afternoon. | 33/35 | 23/25 |
| Constance | Cloudy increments at times with scattered downpours and thunderstorms in the afternoon. | 27/30 | 14/16 |
| Peravia | Cloudy increments at times with scattered downpours and thunderstorms in the afternoon. | 33/35 | 23/25 |
| San P. de Macorís | Cloudy increments at times with scattered downpours and thunderstorms at night. | 31/33 | 24/26 |
| La Romana | Cloudy increments at times with scattered downpours and thunderstorms at night. | 33/35 | 23/25 |
| The Vega | Cloudy increments at times with scattered downpours and thunderstorms in the afternoon. | 34/36 | 22/25 |
| Monsignor Nouel | Cloudy increments at times with scattered downpours and thunderstorms in the afternoon and evening. | 35/38 | 24/26 |
| San Cristobal | Cloudy increments at times with scattered downpours and thunderstorms in the afternoon and evening. | 31/33 | 24/26 |
| Samana | Cloudy increments at times with scattered downpours and thunderstorms in the afternoon. | 34/36 | 24/26 |
| Monte Cristi | Cloudy increments at times with isolated showers. | 36/38 | 24/27 |
| Azua | Cloudy increments at times with isolated showers. | 32/34 | 24/26 |
| San Juan | Cloudy increments at times with scattered downpours and thunderstorms in the afternoon. | 35/37 | 23/25 |
| Barahona | Cloudy increments at times with scattered downpours and thunderstorms at night. | 34/36 | 24/26 |
| The Altagracia | Cloudy increments at times with scattered downpours and thunderstorms at night. | 34/36 | 24/26 |