A Dominican wanted for killing the driver of the deputy director of Passports is arrested in Colombia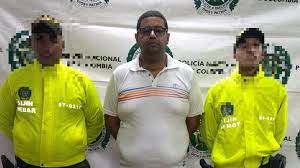 Santo Domingo.- The Metropolitan Police of Barranquilla in Colombia announced the arrest of Dominican national Jesús Alfredo De Gracia Cruz, who was the subject of an international arrest warrant issued by Interpol for a homicide case. De Gracia Cruz, also known as Alfred, was apprehended by members of the Criminal Investigation Section (Sijín) in collaboration with international authorities. The arrest was made in connection with an alleged homicide that occurred in the Dominican Republic on March 31, 2023.
The individual is accused of being responsible for the death of Alexander López, who served as the personal driver of Carlos Ortiz, the deputy director of the General Directorate of Passports in the Dominican Republic. The incident reportedly took place after an argument outside the El Bambino nightclub in the Sabana Perdida sector of the Santo Domingo province.
According to witnesses, the victim and the accused had a dispute, during which the victim brandished a knife. De Gracia Cruz then allegedly got into his vehicle and dragged the victim to his death. Surveillance footage captured the tragic incident.
The Dominican National Police had been actively searching for the alleged perpetrator, who, at the time of the incident, operated a hot dog stand in the area. The Barranquilla Police informed that the detainee would be handed over to the appropriate authorities, indicating the likelihood of extradition proceedings.