Two Hondurans are arrested with seven packages of alleged cocaine in Puerto Haina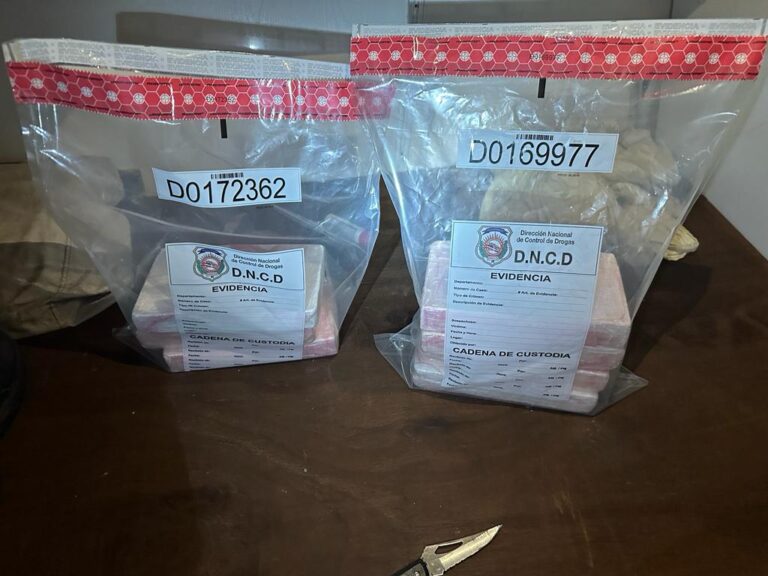 Santo Domingo.- In a collaborative effort involving the National Directorate for Drug Control (DNCD), the Specialized Port Security Corps, official agencies, and members of the Public Ministry, a joint operation was conducted at the Port of Haina Oriental in the municipality of Santo Domingo West. This operation resulted in the seizure of seven packages suspected to contain cocaine.
Acting on intelligence reports, authorities initiated a surveillance operation on two individuals who had embarked on a boat journey from Boca Chica to the Haina terminal.
Following this, DNCD agents and military personnel, accompanied by prosecutors, conducted an inspection of one of the ship's cabins. During the search, they discovered three packages inside a suitcase in a closet, and an additional four packages concealed under a bed. In total, seven packages were confiscated.
Investigations revealed that the vessel was bound for the island of Saint Thomas from the Haina Oriental terminal.
As a result of this intervention, two Honduran nationals, aged 33 and 34, were apprehended for violating laws 50-88, pertaining to drugs and controlled substances. The authorities are continuing their inquiries to ascertain whether this incident is linked to wider international drug trafficking networks utilizing the country's ports for trafficking drugs to the United States and Europe.
Both the DNCD and official organizations are intensifying their investigations to identify potential collaborators in this case. The confiscated packages have been handed over to the National Institute of Forensic Sciences (INACIF) for further analysis and investigation.