The measures would be made more flexible, but the border will not be the same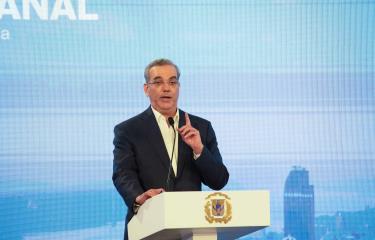 Santo Domingo.- The Dominican authorities are responding to the construction of a diversion canal by Haiti on the Masacre River by rehabilitating the La Vigía canal, which has been abandoned for 15 years. This move is aimed at saving the flow of the river from the diversion being built by Haiti, which has caused tensions between both countries.
Once the La Vigía canal is enabled, which is projected to happen within one or two weeks, President Luis Abinader stated that the government could consider making some measures on the border more flexible. He emphasized that the Dominican border will never be the same due to the situations arising from this crisis.
The Dominican Republic had closed its border by air, sea, and land in response to the construction of the Haitian canal, with the promise to lift the closure when the canal construction stops. However, the Haitian authorities have since supported the project and claimed their right to use the water from the Masacre River.
In response, the Dominican Government is rehabilitating the La Vigía canal to ensure a water supply for local producers and prevent adverse effects on the ecosystem of the Saladillo lagoon.
The La Vigía canal, built in 1966 with Haiti's approval, was closed in 2007. The rehabilitation includes adapting the infrastructure and using pumps to transfer water from the Masacre River to the canal. This project aims to secure water supply for Dominican producers, even if the Haitian canal is completed.
President Abinader expressed a desire for dialogue with Haitian authorities while emphasizing the importance of national sovereignty. He is open to dialogue and international mediation to resolve the conflict and ensure an equitable distribution of water, in accordance with the 1929 treaty between both countries.
Abinader also highlighted the Dominican Republic's cooperation with Haiti in closing the border with Elías Piña to counter a criminal gang's activities, despite the impact on Dominican merchants and transporters.