Dominican Republic and Jamaica sign agreements for the defense of air and maritime spaces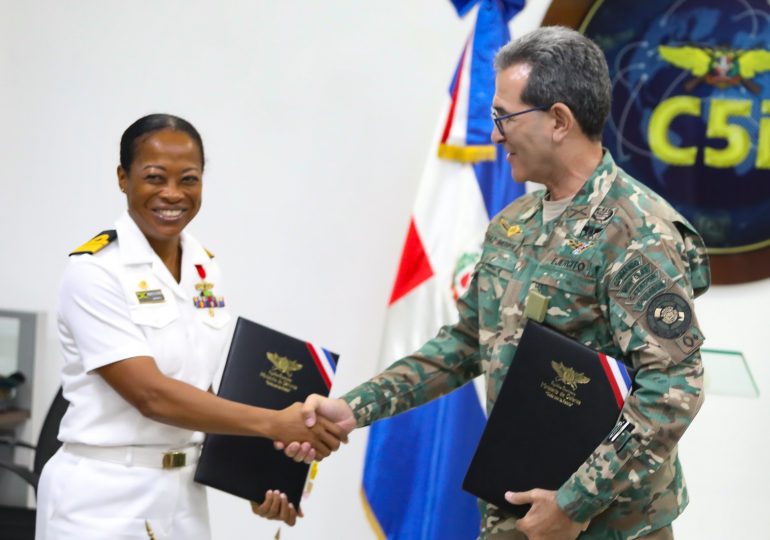 Santo Domingo.- The Jamaica Defense Force and the Ministry of Defense (MIDE) of the Dominican Republic have inked two critical agreements of understanding and cooperation. These agreements aim to bolster aeronautical and maritime search and rescue operations within both nations and to collaboratively combat international organized crime.
The signing ceremony took place at the Command, Control, Communications, Computers, Cybersecurity, and Intelligence Center (C5i) of MIDE. Lieutenant General Carlos Luciano Díaz Morfa, ERD, Minister of Defense, and Rear Admiral Antonette Wemyss Gorman, Chief of Staff of the Jamaica Defense Force, signed the agreements.
These agreements will facilitate enhanced surveillance, detection, and monitoring of ships and aircraft engaging in illicit activities, such as the smuggling of controlled substances, weapons, ammunition, and other transnational crimes in the maritime and airspace territories of both nations.
Furthermore, these agreements will establish the necessary conditions and procedures for the naval and air units of the Dominican Armed Forces and the Jamaican Defense Force to support their respective territorial zones through rapid and efficient maritime and air interdiction operations.
Minister Díaz Morfa emphasized that this initiative expands and strengthens relations between the two countries and extends to the training and development of military personnel from both nations. He expressed his interest in facilitating exchanges to benefit the special forces of both countries.
Rear Admiral Wemyss Gorman expressed her gratitude for the cultural and strategic similarities shared by the Caribbean region and underscored the importance of collaborating to secure sovereign spaces. She offered training facilities for the mutual benefit of both nations.
Rear Admiral Antonette Wemyss Gorman holds the distinction of being the first female officer to achieve flag rank in the Jamaica Defense Force (JDF). She joined the JDF in August 1992 and received professional development training abroad at the Britannia Royal Naval College.
The signing ceremony was attended by officers from the General Staff of the Dominican Armed Forces, as well as members of the security and defense directorate of the Ministry of Foreign Affairs, including the Dominican ambassador to Jamaica, Mrs. Angie Shakira Martínez. Also present were a delegation of general officers, senior officials, and special guests.